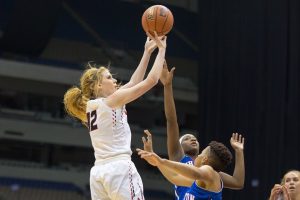 by Campbell Wilmot & Gigi Robertson
The Argyle Lady Eagles will advance to their fourth straight state final game after defeating the Wharton Tigers at the Alamodome on Friday.
The game started at a fast pace as the Lady Eagles kept up a strong offense and never let up the entire game.
Argyle held Wharton to only 11 points in the first half.
"We came out strong and we came out ready to play and followed the game plan," said Vivian Gray.
The final score was 71-31.
Argyle (35-2) will face Liberty Hill (35-2) in the Conference 4A state championship Saturday at 7 p.m., a team they beat last season in the state semifinals.
"We want to win this next game," Coach Skip Townsend said. "I told the team if they win this next game, they'd be legendary."