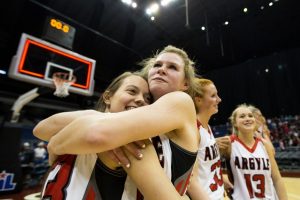 by Faith Stapleton
After a long haul from small Argyle to the hustle and bustle of San Antonio, the Lady Eagles trumped Liberty Hill in the UIL State semifinals Friday at the Alamodome.
However, this stomping ground is no new arena for the girls, as this is the third year in a row for the Lady Eagles to make an appearance at the State Championships.
They are facing Waco La Vega on Saturday, an old rival they've played in 2014, 2015, and now 2016. Last year, Argyle defeated La Vega 58-54 in the state semifinals.
The Lady Eagles managed to hold Liberty Hill to only 32 points in the entire game, which is the lowest final score in Liberty Hill's 2015-16 season. This is very impressive considering that Liberty Hill has Sedona Prince, a 6'7" center who overshadows the Eagles' tallest player at 6'1".
"All we tried to do was keep [Prince] away from the basket a little bit," Argyle Head Coach Skip Townsend said, "and when she did get the ball we tried to take the dribble away from her."
Defense for Argyle is definitely a team effort from everyone on the court, and tonight was no exception. Center Jocelyn Pierce played strong defense, holding Prince to less than ten points. But she wasn't alone; every time the ball was passed to Prince, all Argyle players on the court sagged in to help.
"The problem with Argyle is if you give them opportunities to put you away, they are going to put you away," said Liberty Hill Head Coach Chris Lange.
Although the Eagles kept great possession of the ball, their offense suffered from Liberty Hill's press during the first half, but recovered for a win. The point guards Gabby Standifer, Kayla Haynes, and Vivian Gray were feeling the pressure from Liberty Hill and gave up multiple turnovers.
"We knew we had to get our kids together," Townsend said. "We had to refocus on where we were supposed to be, slow the game down, get into our offense, and try to run some of the clock down."
Liberty Hill definitely felt Vivian's powerful jump shots and was simply "amazed" by her talent. Once Argyle succeeded in getting their heads back in the game, their lead increased, and the Lady Eagles were able to steal a win, 43-32.
It was no surprise Vivian Gray was the top scorer with 17 points, followed by Madison Ralston with 9 points, Gabby Standifer 8 points, Jocelyn Pierce 7 points, and Olivia Gray 2 points.
"She's just amazing," senior Autumn Lange said. "I mean she just makes her offense flow together well."
The Lady Eagles are ready to take on Waco La Vega tonight at 7 p.m. at the Alamodome in San Antonio. The Eagles hope to take home the gold and end their season with an incredible record of 35-1.
"They [Waco La Vega] have a fine team," Townsend said. "It was a good game last year, and it's going to be a great game this year."
Olivia Gray on the rebound keeps an Argyle ball! Lady Eagles keep lead over Liberty Hill 31-23 in Q4. #txhshoops pic.twitter.com/bPcsrQnPzH

— The Talon News (@TheTalonNews) March 4, 2016