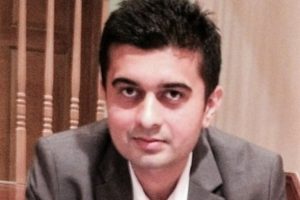 by Mahesh Kashyap
I have been hearing a lot about new technologies, methods, and companies that provide sales and marketing solutions for small businesses and I feel lost in all the information out there. Personally, I have tried a lot of tools, techniques, best practices, etc. to help me with my previous startups and current business. I wish someone would've told me about these things few years ago when I was throwing money away on things that do not work.
I got lost in a lot of small details, tools that I forgot the big picture. It all comes down to few questions: How do I acquire new customers? How do I offer better services to existing customers and increase my revenue? How do I brand myself? How do I manage my business without cutting back on my sleep? How do I let people know that I (my business) exist? I am sure you can add a few questions of your own that are more relevant to your situation. I am not going to answer all these questions in one article but I will try to provide a holistic view of core strategies that matter in these changing times.
Here are my favorite 5 Strategies that can help your business & brand:
Mobile is name of the game
I have a confession to make: I will lose my mind if someone asks me to live without it.  Sadly, this is true for most people out there. We are doing everything on our mobile (from reading news to purchasing health drinks).
Let's start with your website, check to see if it is mobile friendly. If it is not then you are being penalized by search engines and people probably will not consider purchasing your services just because your website looks ugly on mobile. You can take another step forward (if you have the budget) and create progressive web apps for your business (your website will have the look and feel of a mobile app when opened in a mobile device).
Mobile advertisement is good way to promote your businesses and services. Luckily companies like Facebook and Google give you the option to target your ads for mobile users. You can add mobile payment services like Apple Pay and Google Wallet to let your customers purchase your services or products with ease.
Blogging & Vlogging
Content writing has so much value that most business owners ignore this obvious strategy. Over the years, content has taken many shapes (when I say content, I refer to blogs, videos, infographics and more).
Writing is always fun and if you write something useful for people (it should be somewhat relevant to your business) then search engines will love it. Content writing is an evergreen strategy for SEO. Your goal should be to write at least two blogs a week which you can share on your social media pages.
Vlogging is something that has become extremely powerful over the years. You do not need to own a high end video recorder or hire an expensive professional to create video content. Just pick up your phone and start recording few relevant videos about yourself, business or some useful information. You can host your videos on YouTube, Wistia & other websites for free. Insert these videos on your blog or even upload on your social media page.
Infographics are strong visual techniques to sell anything. I remember ordering pizza many times because I saw a mouthwatering image of pizza on my Facebook page. You can do it yourself or you can get some designers to do it for you. Share appealing images & infographics relevant to your business on your social media page(s).
Measure your success with data
One of the mistake that lot of businesses and individuals do is to make decisions based on what they feel is a good direction. This can work in some cases but in the long term this is a big "No No" strategy. I was in the same boat where I would keep on experimenting around marketing with hopes that it will work.
When you are using Facebook or Google advertisements they provide a bit of code that you can insert in your websites. By doing this small change you will have insight on how people are interacting, coming to your website through your ads. You can make adjustments to your techniques by reading that data and see positive results for your ad campaigns.
Google Analytics is another way to learn more about your website visitors, their origination city, demographics & more. Google offers analytics services for free which you can utilize for your business.
SumoMe provides you some awesome free tools that you can use to check which website pages/sections are "Hot" or which sections are performing well. These heat maps coupled with some other tools can provide lots of information that you can use to improve your digital touch points.
Meddle with Social Media
Social media is something that you cannot ignore and will help your business or personal brand achieve success. You do not need to be active on all platforms but choose the appropriate social media network that suits your needs or goals.
My personal favorites are Facebook & Instagram. Most of your customers are on these networks and lot of them will try to interact with your business using one of these networks. The first step is to correctly set up your page on these networks (create your Business Page) and then plan your social media strategy.
If you are a professional like attorney or CPA or doctor then LinkedIn is another network which you need to include in your list of social media profiles for your practice.
Email Marketing
Yes, email marketing "still" works! I am not talking about purchasing email lists or spamming your potential customers with emails every day. It has to be carefully planned.
Choose your email marketing software/services. There are many companies like SendinBlue, MailChimp, Campaigner and others which let you create email lists and automate your email marketing efforts.
Creating your email list is the first step where you can create a list of your current clients; those who have provided their email(s) on your website/social media. For best results an organic list is the best way to go about it.
Once you have your list then focus on segmenting it into multiple groups based on your product and services. Initially it requires a good amount of work but once you set up your structure then it becomes easy to manage your campaigns.
As I mentioned earlier, there are so many marketing ideas, techniques that are available today but it is extremely difficult to implement them all. I have listed my 5 favorite ways to create your brand, increase your business and achieve the level of success that you are looking for. I am still learning lot of new techniques every day and keep increasing my knowledge from people who are more experienced than myself. I am happy to share my knowledge and experiences with hope that these can help someone out there who is on same journey as me.
Mahesh Kashyap, CEO, GroupInc Consulting
[email protected]
(940) 241-7195