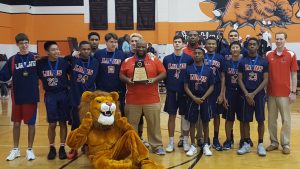 The Lakeland Christian Academy Boys basketball team in Lewisville earned the school's first state basketball title with a 65-64 win over Romeo Prep at Springtown H.S. on Saturday to capture the TCAF D2 Championship.
The Lions found themselves down by one with the ball under their own basket with 3 seconds left. Senior forward, Brayden Barkley, caught the inbounds pass and sank the 10-foot jumper as time expired to give Lakeland the win.
Barkley was named Tournament MVP and freshman Jared Avestruz was named to the All-Tournament team.
The Lions used a balanced attack all year to finish the season with a 19-1 and 10-0 record in district play.
The Lakeland boys also brought home many awards this season. They placed six players on All-District teams and four players on the All-State team.
Justin Taylor, Brayden Barkley, Blake Britt, Thomas Chambers, and Jared Avestruz were selected to 1st Team All-District. Lawson Labat was named to 2nd team All-District.
Taylor, Barkley, and Britt were selected to 1st Team All-State and Avestruz was named to 2nd Team All-State.
Taylor, Barkley, and Britt will have the opportunity to represent Lakeland in the TCAF all-star game.
The Lakeland coaching staff of Melvin Harper, Doug Jackson, and Keith Chambers were selected to coach the Blue Team at the All-Star Game on March 11th.