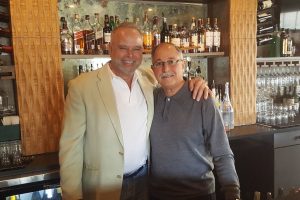 As Chef Morris Salerno, Jr. and his cousin, Mike Salerno– owners of two longtime local restaurants– tell it– in the 1920s, their grandfather, Nick Salerno, arrived in New Orleans from Corleone, Sicily. He made his way to Texas, owned and operated Oriental Shoe Repair in downtown Dallas, married a Sicilian immigrant who had moved to Fort Worth, bought 15-acres of farmland in DeSoto, leased it out and lived happily ever after.
Corleone?  Mike laughed:  "Not everybody from Sicily belongs to the mafia!"
Both cousins agreed Grandpa's wife, Mela, was "a fantastic cook;" they emphasized the word "fantastic."
Morris, a 2014 Villeroy and Boch Culinary World Cup individual gold medalist chef, definitely inherited her talents with food.
So, where's the medal?  He flashed a sheepish grin, "At home hanging on the wall by my television."  There's a color photo of the prize on page 101 of his first cookbook Morris' Way.
However, he serves up the prize-winning culinary creations to restaurant customers right here in southern Denton County, "All the time."  The thing chefs strive for is perfection; that, according to the gold medalist, takes practice, practice and more practice.
In 1985, after Grandma sold the DeSoto farmland and offered them venture cash, Morris and Mike– who was then a San Antonio high school football and basketball coach, turned restaurant businessman– started Salerno Pizza Company. The woman recognized a winning team when she saw it.
Ultimately, they launched The Grotto Restaurant of Highland Village and Salerno's Restaurant of Flower Mound. Mike called Grandpa's farmland: "The foundation of our family's success."
Salerno Pizza Company still holds both venues. But, The Grotto has become The Grotto Bar and Bistecca Italian Steakhouse; and, Salerno's Restaurant has roughly tripled in square footage.
Everything changed at The Grotto Restaurant when Chef Morris agreed to participate in the Hungry Investors television show. It paired similar restaurants in a filmed contest of culinary and restaurateur creativity.
"After 20-years in business," he said, "The Grotto needed to be refurbished, so we did that.  Our contract called for re-branding, so we decided to become upscale; a place to take a date.  It was hard to change the restaurant's name, but after some growling I did it."
The bar retained the historic name.
"Business increased right after the public hub-bub of the filming and after the show aired, it skyrocketed," said Morris.
"I'm the Salerno's Restaurant front man," Mike explained.
He runs that operation, while Chef Morris oversees the work of its cooks.
The ambiance is invitingly homey.  The walls are chock-full of wedding portraits and other family photos.  The entrance houses interesting antiques, including cobbler's equipment from Grandpa's shoe repair business.  The restaurant has a bar, its original dining room, two spacious meeting rooms and a charming enclosed patio.
"Our menu features a lot of recipes unique to our family, including Grandma's own red sauce for pasta dishes.  Chef Morris has created some items and we name these for friends and family members."
Chicken Lillian, named for the Chef's sister, consists of a sautéed chicken breast in garlic lemon butter sauce over linguine served with spinach.
"But, everything's good," Mike added.  Chef Morris changes the menus from time to time.  Variety is the spice of life.
Mike actually cooks at home on Sundays.  He's fond of barbecue, and has been known to make it.  He and his wife, Kim, are empty-nesters.  She's a retired elementary school P.E. teacher, who became a realtor.  Do they mind eating out?  "We do it a lot," he said.
"Back in the mid-80s," Chef Morris said, "Highland Village was considered way far out in the sticks.  We applied for the first liquor license in town; and, one less-visionary councilman wondered aloud why we'd bother to open a restaurant here."
All this entrepreneurial action began when Chef Morris was 16-years-old.  One of his future brothers-in-law hired him as an Apprentice Chef at a country club in Dallas.
"I had fooled around in the family kitchen, so I knew early on I wanted to make food," he said. "The first thing apprentice chefs learn is classical cooking.  That's the foundation of the modern cuisine repertoire."
The classical chef's kitchen vocabulary is French and this spills over into home cooking.  For example cutting raw vegetables into matchstick shape is called a julienne preparation.  The familiar sauté means to sear or cook a piece of meat in hot oil, without losing its juiciness.  In a nutshell, the classical repertoire includes learning how to prepare sauces, dressings, meats, vegetables, fruits, breads and desserts.
"After that chefs branch out," he said.
So, what's the difference between a chef and a cook?
"A chef is an artist and an engineer," he explained.
The country club hired a German chef, who continued Morris' culinary education, which led to work as a Sous Chef (translation: Under Chef) at a Sheraton Hotel in Atlanta, Ga.; and, then as the Garde Manger Chef (or Cold Kitchen Chef in charge of cold foods) at Dallas' Fairmont Hotel.
"The job at the Fairmont was a professional plum in my lap; because, at the time, it was the only 5-Star hotel in the Southwest," he said.
After that, he spent a year as Chef in a Laredo restaurant, then returned to Dallas at age 27 for five years with Lowe's Anatole Hotel as its L'Entre Cote Chef overseeing fine dining, the banquet hall and 13 restaurants.
Next, he became the Anatole's Banquet Director managing a huge staff "and 386,000 light bulbs."  He admitted he became Pavlov's dog who is always the first person to notice a darkened light bulb at Bistecca or The Grotto Bar.
"One of the cool things about my years at the Anatole was the interesting people I got to meet," he said– think Presidents Ronald Reagan and George W. Bush, and Michael Jackson, to name a few.  He once organized and oversaw a banquet for Nancy Reagan "and 2,000 of her closest friends!"
After culinary school graduation, aspiring chefs become apprentices for anywhere from three- to five-years.  Experienced Apprentice Chefs rise in the professional ranks by joining and receiving advanced training through the 20,000-member American Culinary Federation (ACF); a North American professional organization that certifies Executive Chefs, Sous Chefs, Executive Pastry Chefs and Certified Culinary Educators.
In addition to being a member of ACF, Chef Salerno also belongs to the Texas Chefs Association (TCA).
Starting in 1980, he began a prize-winning streak with a gold medal at the Texas Chef Culinary Art Show in Houston.
The following year, his entry at the same show's Best Buffet won an Honorable Mention.
In 1983 he garnered a silver medal from the ACF and the next year joined the Dallas Times-Herald's list of 10 Top Young Chefs of Dallas.
In 1986, at the ACF 1st Annual Southwest Culinary Salon, he received a bronze medal.
The list goes on at a regular pace at home and abroad, until 2014; when he received an individual gold medal at the world famous Expogast Villeroy and Boch Culinary World Cup in Luxembourg.
In 2016, he coached the United States team at the Culinary Olympics held in Erfurt, Germany.
Under normal circumstances, a team of chefs, coaches and administrative staff start "training" two-years in advance of the Culinary Olympics.
"It's an enormous logistical, feat in addition to the production of the entry," he said. "None of us had planned to go [to the competition] in 2016, but the Canadians had a spot to fill at the last minute.  We had only six-months to get ready.  I coached the chefs, who produced a five-course lunch.  It was an intense experience.  There were two periods when we worked for 30-consecutive hours.  I also prepared lunches for the team.  The camaraderie was fun, but I think I'm getting too old for those 'all nighters.'"
The effort paid off with one silver and two bronze medals.  Not bad for a "last minute" entry.
"Every working chef's dream is to open his/her own restaurant," he said.
The cousin's grandmother made that dream a reality in 1985, by enabling Morris and Mike to open Salerno's Pizza, then Gibbs Station Restaurant in Coppell and, lastly, Salerno's Restaurant and Bistecca; all of which are noted for their excellent fares.
What does Chef Morris cook at home?
"Popcorn!" he said.  "When I want a meal, I fix it at the restaurant, since I'm here most of the day anyway.  I don't grocery shop and my home fridge contains bottled water and some wine.  That's it.  Oh, and the restaurant is my wife and family."
His career doesn't dampen his enthusiasm for eating out, he added: "I know the local chefs and we enjoy eating each other's cooking."
As if all this isn't enough, to prove the Salerno cousins are "Type A work-a-holics" and family American success stories, the Chef has published two cookbooks titled: Morris' Way hilariously subtitled: "Four Wives, Three Restaurants and A Cook Book" and More Morris' Way without a subtitle, but including a color photo of the Chef decked out as Mother Ginger in a performance for the Lake Cities Ballet production of Tchaikovsky's Nutcracker Suite ballet.  Self-consciousness is not a problem with which he struggles.
Almost every recipe in both books is accompanied by luscious full-page color photos of the end products.  The books contain family photos and personal history vignettes.  They are available for sale only at Bistecca.  If you want to try your hand at easy stuff like Mom's Burnt Toast or something jazzy like The Grotto's New York Steak Salad with an Asian Red Pepper Dressing, this is your big chance, because the Chef isn't keeping things secret.
Better yet, drop in for an evening of scrumptious gustatory delight at Salerno's or Bistecca.  Check out the hours and menus on the web at www.salernositalian.com and www.bisteccasteakhouse.com.