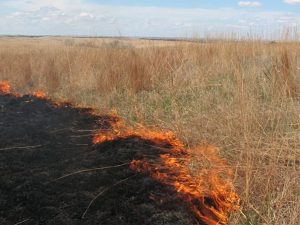 If you see fire trucks around The Flower Mound and a little smoke rising from it this week, don't worry.
The Flower Mound Fire Department is planning to conduct a partial controlled burn on The Flower Mound located on FM 3040 east of FM 2499 this week.
The burn will take a few hours; however, an exact date is still to be determined as weather conditions will be the deciding factor.
The controlled burn is being done in conjunction with The Mound Foundation to remove the invasive plant species and to allow the natural prairie grass and wildflowers to thrive as spring approaches.
A post on The Flower Mound Facebook page states: "There are two things that help a prairie remain a prairie: bison and fire. Our 12.5 acres is a little too small for bison, but this long-overdue burn should help produce a spectacular wildflower show this spring. Burning a prairie helps get rid of woody and invasive plants that threaten this highly-endangered ecosystem. It also eliminates the thick grassy thatch that shades the soil and doesn't allow the native grasses and wildflowers to get the sun they need while germinating and beginning their spring growth."
During the burn, the southern two-thirds of The Flower Mound will be burned. The controlled burn will also help reduce the fuel load and help in mitigating any uncontrolled wildfires in the area.
Flower Mound Fire personnel have been working to notify neighboring residents and businesses to The Flower Mound by going door-to-door.
During the controlled burn, the Flower Mound Fire Department will have numerous fire trucks and firefighters stationed throughout the neighborhood out of an overabundance of caution.
Smoke is expected to remain light during the burn; however, anyone with health concerns is encouraged to remain indoors with the windows closed.
Residents may contact the town before, or during, the controlled burn should they require assistance on the non-emergency line at 972.539.0525.