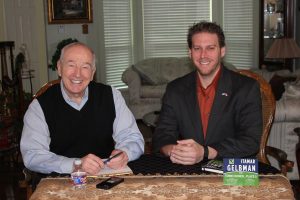 In 2015, Itamar Gelbman ran for and was elected to a two-year term in the Place 5 seat on the Flower Mound Town Council. Due to some changes in the election process, Gelbman is running for re-election to a three-year term in the May 6th election.
To say the last two years have been controversial, for him and his colleagues on the Council, would be a gross understatement. Therefore, in order to allow residents to hear directly from him, I invited the councilman to sit for a video interview to tell residents what his first term was like and, if re-elected, what his vision is for the future of Flower Mound.
Among other salient issues, he tells residents how he feels about allowing the development of affordable housing, including rental units to be built in town, for seniors. Councilman Gelbman was also asked about some of the larger developments that were started during the last few years, including the River Walk, Lakeside and the Courtyard Marriott Hotel. In addition, I asked for his opinion on the obvious hostility residents have witnessed between him and other council members during televised meetings. The following biographical info was provided by Mr. Gelbman:
"Itamar Gelbman is a grandson of holocaust survivors. Born in the United States, his family moved to Israel when he was 5 years old where he grew up and served as an Officer in the IDF and Israel Police Dept. Itamar currently serves as a council member in Flower Mound, TX and as an Officer with the Texas State Guard. He owns and manages a security company providing security to dignitaries, celebrities and executives such as Will Smith, Britney Spears, Ben Shapiro, Gary Sinise, Clint Eastwood, Condoleezza Rice and more, and manages his wife's Veterinarian business."
Itamar and his wife Charisse have four children; Micah, Kiele, Nathanel and Abraham, and two dogs, Liberty and Corky. In his free time, Itamar enjoys flying small airplanes and volunteers his time to support terminally ill children with cancer and build smart homes for severely wounded veterans. Mr. Gelbman's video interview is below. His opponent, Claudio Forest, will be interviewed next week.
Bob Weir is a former NYPD officer, long-time Flower Mound resident and former local newspaper editor.