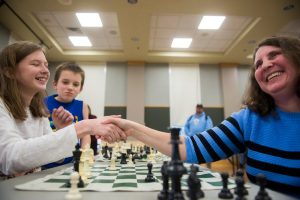 Dr. Alexey Root, the 1989 U.S. Women's Chess Champion, faced simultaneous matches against 10 other players during the Chess Challenge held at the Flower Mound Library on Saturday, Jan. 28.
Also attending the Chess Challenge were family members, students enrolled in Dr. Root's online courses and spectators totaling 73 interested chest aficionados; of which 32 signed up to play.
 "I love playing this challenge," said Ryan Dykstra, 8, of Flower Mound. "I just love playing chess."
When asked if he was nervous about the upcoming game, he said: "Just a little. I've beaten a lot of other people."
Another Flower Mound competitor, Hyrum Williams, 18, said he had been a chess player since he was seven or eight.
"I just wanted to come here and have some fun and play some chess," said Hyrum Williams, 18, of Flower Mound, who's played since he was seven- or-eight-years-old.
A player of the game for 47 years, Ron Johnson, 60, from Highland Village, said, "I am planning to get a free book," in reference to Dr. Root's promise to award a free book to anyone who beat her.
Spectator Ami Abraham, 20, is a student in Root's "Chess II ED–Institutional & Cultural Contexts" at The University of Texas at Dallas, said that the class: "kind of opened my eyes, not only to the game of chess, but also how it can be part of your life. Her passion makes it more worthwhile to me."
Two other students of Root's attended the challenge, one of whom competed.
Morgan Brown's son Cole, 8, had signed up to play. He plays weekly in Flower Mound Elementary School's Chess Club.
At the beginning of the 'simul,' the 10 opponents were seated in a semicircle. Standing in the middle of the semicircle, Root walked up to each opponent's chessboard sequentially and after each challenger made a move, Root made her move. Challengers could opt to pass three times.
As players lost, others on the waiting list stepped up to the challenge.
Of the 17 games Root competed in during two short hours, she won 14, was defeated in one and agreed to a draw in two. See more photos from the event here.
"I've played chess for 14 years," said winner Luis Vera, 29, of Irving. "I was expecting to lose, so I just came to have some fun; but, fortunately, found tactics to get ahead and took advantage of them."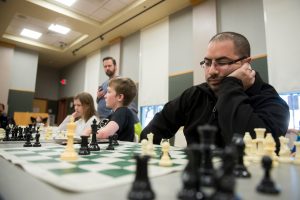 Root said Vera broke her 38-game undefeated streak at other library 'simuls' in Denton (20) and Dallas (18).
"I've been playing for 48 years," said Lewisville resident Vito Bondar, 54. "I feel great about achieving a draw."
The other player who obtained a draw, Joe Winburn, 29, of Copper Canyon, stated: "It was great to have an opportunity to play against a master."
Of the 21 competitors, two of them were females—Marley Toich, 9, a Wellington Elementary student and 12-year-old Anna Halza, who has been playing chess for two or three years at Founders Classical Academy.
Toich's mother, Jena, said: "She saw the flyer at the library. I told her she had to go to this;" while her father, confessed: "I can't beat her."
In 1989, chess player, teacher, and writer Alexey Wilhelmina Root earned the title of U.S. Women's Chess Champion. Her father, Wallace Rudolph, taught her to play chess at the tender age of five.
"My father let me win games to keep me interested," she said. "When I was nine-years-old, I asked him to play 'for real.' Since he was not a tournament chess player, I was able to win against him 'for real' and then he took me to my local chess club in Lincoln, Neb., in early 1975."
That same year, Root entered her first tournament. She said her prowess at the game meant she rapidly "came to dominate the under-age 13 tournaments in Lincoln . . . and surrounding towns in 1975 and 1976. At those tournaments, there was a first [place] overall under age 13 and a first girl under age 13. I routinely won first overall trophy and my friend Angel Niedfeld won the 'first girl' trophy.
"The boys were shut out, tournament after tournament. The boys' parents complained. So, then the tournament organizers came up with a new structure for the under age 13 trophies: First Overall, First Boy and First Girl!"
In 1976, Root became Nebraska Elementary Co-Champion. She remained in the Lincoln club until she turned 11, at which time her family moved across the country to Tacoma, Wash., where she participated in the Tacoma chess club through her teenage years.
Besides being a U.S. Women's Chess Champion, Root also holds the distinction of being awarded the title of Woman International Master (WIM) by the World Chess Federation (FIDE).
Currently, just 756 women hold this distinguished title worldwide.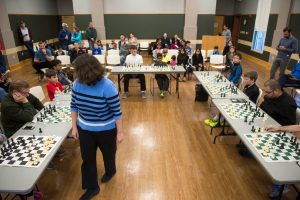 Of her winning the U.S. Women's Chess Championship in 1989 Root said, "By winning that tournament in a 'zonal' year, FIDE awarded me the Woman International Master (WIM) title. At that time in history, a 'zonal' year meant that the tournament was a qualifier for the next stage in the Women's World Championship cycle, called an 'interzonal' tournament."
Root said she loves "competing in tournaments, solving problems during games, and meeting other chess players were all fun back when I played tournaments."
But she encountered problems when playing at tournaments, too. For instance, she recalled, "…occasionally, the conditions would distract me from playing my best. For example, when I played in the Interzonal in Malaysia in 1990, the tournament hall had a metal roof. When it rained during one of the early rounds, I thought a train was coming right for the tournament hall. The rain was that loud! There were a number of blunders by players—not just by me—in the games from that Interzonal."
Root donated her score sheets on which the players record every move of tournament games, plus those games' results to the World Chess Hall of Fame in Saint Louis, Mo.
The U.S. Chess Federation began computerizing records of tournament results in 1991 and posting them to its website: uschess.org. The moves players made are not part of the U.S. Chess Federation's records, just the results for each game or round. Game results are recorded as W (win), L (loss), or D (draw).
Root's semi-retirement from tournament chess hasn't diminished her involvement with the game of chess. She is busy with other activities, but they all concern the game she loves.
"I didn't play any tournaments in 2016 and just two tournaments in 2015, so nowadays I love teaching chess, writing about chess and promoting chess," she explained.
One tip of advice Root dispenses to young chess players is that handling competition starts with appreciation of one's opponents. She tells them: "They are doing you a favor if they play their best against you!"
She included her favorite quote about competition in her book Children and Chess: A Guide for Educators: "'He who wrestles with us,' wrote Edmund Burke, 'strengthens our nerves, and sharpens our skill. Our antagonist is our helper.'"
In her book People, Places, Checkmates: Teaching Social Studies With Chess, Root gives an example of how competitors should view defeats: "Although wins keep your spirits up, losses educate by showing where your moves went wrong. In the hotel elevator at a major scholastic tournament, I met a little girl in a chess shirt and her mom. I asked the girl how her previous game went. She said, 'I learned.' Her mom clarified, 'That's what we say when she loses, because we learn when we lose.'"
Root, a senior lecturer in Interdisciplinary Studies at The University of Texas at Dallas, has authored seven books on the relationship between chess and education. Her latest, Prepare With Chess Strategy, is licensed by the Boy Scouts of America (BSA), because it is designed to assist Boy Scouts and other beginner- to intermediate-level players learn basic chess strategies, including Force, Space, Time, and Pawn Structure. And many Boy Scouts aim to learn and win at playing chess.
According to Root, "Since 2011, more than 100,000 Boy Scouts have earned Chess merit badges from the BSA."
As part of "Gaming Unplugged," the Flower Mound Public Library offers players of all ages the opportunity to play chess the second Sunday of every month from 2 to 4 p.m. "Gaming Unplugged" also features other tabletop games, card games, and role-playing games. Games will be provided, or players may bring their own.
The remaining 2017 dates are February 12, March 12, April 9, May 14, June 11, July 9, September 10, October 8, November 12, and December 10.
For more information, call Jill Dawson at 972-874-6165, or email her at [email protected].