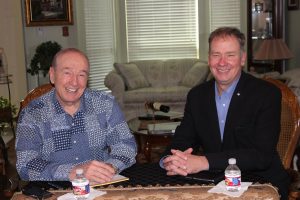 Last month, at the Flower Mound Area Republican Club meeting at Bridlewood Golf Club in Flower Mound, Michael Quinn Sullivan, President and CEO of Empower Texans, which has offices in Dallas, Houston, Midland and Austin, was the guest speaker.
When he spoke about his organization's goals of reducing government and taxes in Texas, the audience was deeply engrossed in what he had to say. Inasmuch as everyone is interested in paying fewer taxes, I wanted to hear more. Therefore, I invited Mr. Sullivan to sit for a video interview, which accompanies this article.
The following info comes from the Empower Texans website: www.empowertexans.com. "Empower Texans is a non-profit service organization. Through multiple media formats, we inspire and educate Texans to exercise effective citizenship. Using research, reporting and advocacy, we empower taxpayers to advocate for good governance and to hold their elected officials accountable.
"Michael Quinn Sullivan is president of Empower Texans and its premier project, Texans for Fiscal Responsibility. The Fort Worth Star Telegram said Sullivan "slays taxpayer dragons in Austin… When the heat is on in Austin, Michael Quinn Sullivan knows how to make it even hotter." Texas Monthly recently dubbed him "the enforcer," on their list of the 25 most influential Texans. The national political magazine "Campaigns & Elections" listed him as one of the state's most influential political figures.
"A graduate of Texas A&M University, Sullivan is a former newspaper reporter who worked for a Member of Congress in Washington, DC, and trained conservative leaders on effective communications strategies. He spent five years with the Texas Public Policy Foundation where he served as vice president. His commentaries have appeared in newspapers and magazines around the state and nation. He is a frequent guest on talk radio programs, and regularly called upon to address policy and political issues before groups across the country. A former newspaper reporter, Capitol Hill staffer, think tank vice president and Eagle Scout, Sullivan and his wife have three children."
Bob Weir is a former NYPD officer, long-time Flower Mound resident and former local newspaper editor.