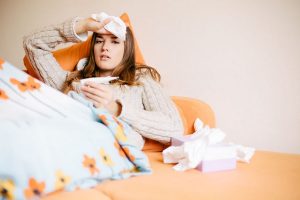 It's that time of year when every sneeze, cough, sniffle or case of the chills makes you immediately think "Could this be the flu?" And, according to the Texas Department of State Health Services, the number of cases of Influenza A and B are rapidly on the rise.
How is flu season shaping up in Texas?
State records show visits to physicians for influenza-like illnesses tend to increase by mid-November, peak in January and begin tapering off by February and March.
From Jan. 1 through Jan. 7, hospital laboratories reported 191 confirmed cases of influenza, up from the previous week. So far this season, a total of 68.84 percent or 635 cases of the Influenza A strain and 315 or 33.16 percent of the Influenza B strain have been confirmed with laboratory tests.
However, physicians are reporting an ongoing uptick of the upper respiratory illness across the state.
At least 101 providers seeing 24,429 patients in the first week of January reported 1,238 influenza-like illnesses ranging across all age groups from infant to over 65.  So far this season, that is the highest number of flu-like illnesses reported in a single week.
Since October, more than 12,000 flu-like illnesses have been reported by an estimated 120 physicians across Texas. To date, 1,347 deaths have reported from pneumonia and influenza this season. Influenza outbreaks were reported at a correctional facility and several long-term care facilities.
What does that mean?
Cases of influenza are rising quickly and are expected to continue increasing for the next several weeks. In short, that means the flu shots – if you received one – should be effective in reducing your symptoms.
Flu shots are still available – whether from your employer (if they are available), a pharmacy, a health clinic, your doctor or at any of the Rapid Med locations at 8501 FM 407 in Double Oak (972-966-1980) or 3800 Main St. in The Colony (214-423-4141).
The sooner you get the flu shot, the better since it takes approximately 2 weeks for your body to build the necessary antibodies to protect you against the influenza virus infection, according to the Centers for Disease Control and Prevention.
Be aware that flu shots may not keep you from getting the flu altogether, but they can make it a lot easier on you and your body by providing partial protection if the flu strains mutate. They can prevent complications and assist in a quicker recovery. Extensive research is conducted to ensure the vaccinations are as close to the predicted outbreaks as possible to protect the public. And so far, this year looks to be right on target for a good match between the available shot protection and the strains seen to date this season.
Flu strains do mutate each year, which is why it is important for everyone ages six months and older to get a flu shot every year. It just makes good sense to make it part of your annual wellness routine.
Are there side effects?
The flu shots, made from inactivated viruses, cannot give you the flu. Some side effects that might occur include: soreness, redness or swelling where the shot was given, a low grade fever and, possibly, aches.
The nasal spray, which uses weakened live viruses, can cause some side effects for children such as: a runny nose, wheezing, headache, vomiting, muscle aches and fever. For adults, the side effects can include: a runny nose, headache, sore throat and cough. The CDC, however, is not recommending the nasal spray flu vaccine to be used for the 2016-2017 influenza season.
What are the signs and symptoms of the flu?
The first thing to know is that anyone with influenza is contagious at least one day before symptoms begin to show up such as coughing and sneezing. In fact, someone with the flu can even spread the airborne virus by talking if you're standing close to them. You can be exposed by touching an object (such as a shopping cart, soft drink machine, door handle, a copier, refrigerator door handle, universal coffee pot, etc.) that is used by others who may be infected.
Some general signs to watch for include: fever, chills, coughing, sneezing, runny nose, malaise, lethargy, sore throat and headache. It is important to recognize these symptoms and schedule a doctor's appointment. Be sure to stay home and away from others as much as possible after becoming sick – at least four to five days, if not longer depending on your symptoms. Also, remember that you or the person who is ill can still be contagious up to 24 hours after a fever is gone (without taking any fever-reducing medicine).
What are some tips to keep in mind?
Wash your hands frequently with soap and water. Hum the "Happy Birthday" tune in your mind as you wash to ensure you have allowed enough time to pass to wash away any germs.
When coughing or sneezing, turn your face into your elbow or grab a tissue to cover your nose and mouth. (It's always a good idea to buy tissue boxes for both your home and work this time of year anyway).
Whatever you do, don't touch your eyes, nose and mouth. This spreads germs to mucous membranes which easily absorb them into your body or vice versa, exudes germs when you are ill and can cover your hands, passing them along to surfaces that you touch.
Keep disinfectant wipes handy for wiping down countertops, work desks and other objects you or other people regularly touch to reduce the spread of germs.
Take the flu seriously. Complications can result in some cases and the virus has already caused deaths this season, particularly in those with compromised immune systems – i.e. with pre-existing conditions, elderly and newborns.
The most important thing you can do for yourself, your family and your co-workers is to get the flu shot. Or, if you begin to experience symptoms, stay home and seek medical attention. Going ahead with your daily plans only helps to spread influenza to others. And, besides, it just makes sense to take care of yourself and others by getting some rest and allowing enough time for a full recovery.