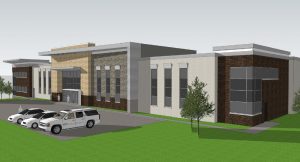 Texas Land Planning & Management Services (TLPMS) received approval for a three-story 94,500 square-foot climate controlled self-storage facility on Enterprise Drive across from Stacy Furniture in Flower Mound's Southpoint Addition.
"We felt very fortunate to be approved by Flower Mound's Town Council at their last meeting of 2016 and are excited to get this project going. We have been working on this project for over two years waiting for a lot of the roads and other infrastructure work in the area to be completed," said Dee Baron, Managing Partner at TLPMS.
Prior to the December 19th Town Council meeting, the project was unanimously recommended for approval by the town's Planning and Zoning Commission.
"Our design team led by Trent Clark with A Plus Design Group worked closely with the town's planning department.  From the start, the town planners were very clear that the building needed to say 'wow," Baron said.
"We had numerous meetings and went back and forth on coming up with a final design concept that we feel made the statement the town was looking for. Our building looks great and I think this is a perfect location for our project and I believe that is the reason we received unanimous approval."
The facility will have approximately 620 units and will be located next to the town's Southgate Addition. Southgate was approved in 2015 and is a 108-acre mixed use development that features residences, retail and green space.
"Enterprise Storage will be a "state of the art" facility with a lot of "bells and whistles" as far as self-storage goes. It will be far different than what most people think of when they think of self-storage. There are no exterior units and it will be 100-percent climate controlled," said Baron.
"It will look like an Executive Office Building and fit nicely into what has been planned by the town for this area. We will cater to business professionals with a Docu-Stor section for important files and documents. For people with wine collections or items needing controlled humidity we will also have a Wine-Stor section. We feel this will be the nicest self-storage facility in the DFW area and expect the planning and construction process to take approximately 18 months."
Based in Trophy Club, TLPMS has owned and operated self-storage facilities in North Texas for more than 20 years and provides services in construction management, site selection and feasibility studies, site design and land entitlements.