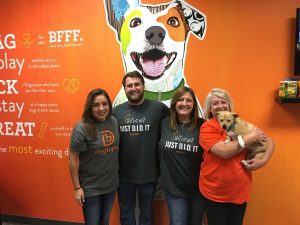 Dogtopia, a dog daycare, boarding and spa facility, recently opened its first location in Highland Village. Situated at 1830 Justin Road, this location marks the first Dogtopia in the DFW area.
Offering personalized care for pups in a fun, safe and comfortable environment, Dogtopia Highland Village owners Carolyn and Jason Greig of Flower Mound aim to set the industry standard among dog daycare's three key benefits: education, exercise and socialization.
To foster complete transparency, pet parents are walked through a detailed facility tour while their dogs are evaluated for Dogtopia's open-play environment. Dogtopia employs webcam technology in each room to allow pet parents to check on their furry child at any time.
"We are thrilled to bring Dogtopia to the community and provide much-needed care for dogs in the area," said Carolyn Greig, who owns three dogs of her own. "Our mission is to create the most exciting day ever for pups, while giving their parents peace of mind while they're away, at work, or on vacation. Instead of being left alone at home or in an isolated kennel environment, Dogtopia provides an opportunity for dogs to get exercise, playtime with pals and human interaction while their owners are away."
Community canines will enjoy an open layout where each playroom offers fun for similar-sized dogs. Each playroom also has compressed rubber flooring to ease joints, prevent slipping and promote safer play, as well as a powerful HVAC system funneling air out of the building to ensure clean, fresh air. Every area is cleaned solely with dog-safe products. Dogtopia's fees are all-inclusive – meals are prepared according to each pet parent's request at no extra charge, or pet parents can bring their own food.
"We understand the dogs in our care are more than just pets – they're members of the family," Carolyn added. "Our employees are meticulously trained to take every measure possible to guarantee their comfort, safety and meet all of their needs."
Dogtopia of Highland Village is open from 7 a.m. to 7 p.m. Monday through Friday, 10 a.m. to 5 p.m. on Saturday, and 4 p.m. to 6 p.m. on Sunday (for pick-up or drop-off only).
For more information on Dogtopia of Highland Village, call 972-264-1178 or visit www.dogtopia.com/highland-village.