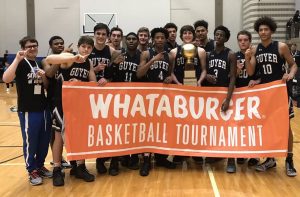 Guyer High School clinched the championship title in the Boys Orange Division at Whataburger's 59th annual basketball tournament on Friday to bring home a first-place trophy and $1,000 for the school.
The Wildcats beat Garland Lakeview Centennial 75-73 to claim the title.
Guyer point guard De'Vion Harmon was named All-Tournament MVP.
This year's tournament featured 48 boys' and girls' teams from all across Texas and out-of-state contenders from Little Rock, Arkansas, in addition to several teams that were experiencing the competition for the first year.
"The Whataburger Basketball Tournament provides an opportunity for high school basketball players, coaches and fans to come together for the enjoyment of the sport and thrill of competition," said Whataburger Director of Operations Kelvin Buggs. "We were all blown away by the skill that each student athlete brought to the court. We hope the players were also able to go home with some takeaways from the tournament that will help them both on the court and in their communities."
The Whataburger Basketball Tournament began as a small fundraiser sponsored by the Fort Worth West Side Lions Club between just eight schools. Over the years, the tournament has grown to host more than 600 student-athletes each year, spawning notable NBA players. More than 30,000 fans and spectators made the trip to the Fort Worth area for the tournament, which has been named one of the top five holiday competitions by Sports Illustrated and USA Today.
Your tournament champions https://t.co/JiSWZe9tWw

— #WhataTournament (@whataburger_bbt) December 31, 2016
— #WhataTournament (@whataburger_bbt) December 31, 2016
All Tournament MVP Devion Harmon #WhataTournament pic.twitter.com/T99Ui1E2kj

— #WhataTournament (@whataburger_bbt) December 31, 2016