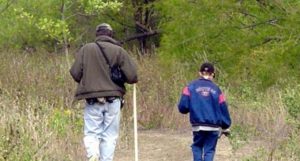 Start 2017 on the right foot. All across the nation, kids and adults will be participating in First Day Hikes on Sunday, getting their hearts pumping and enjoying the beauty of their local parks.
Lewisville Parks and Leisure Services will help kick off the new year with a First Day Hike at LLELA, 201 E. Jones Street, and Central Park, 1899 S Edmonds Lane, on Sunday, Jan. 1.
Family-friendly hikes will be led by knowledgeable staff and volunteers, and each will be a little over a mile in length.
The hike at LLELA starts at 10 a.m. Participants are asked to meet at the pavilion. The hike at Central Park starts at 2 p.m. Participants are asked to meet near the main pavilion.
Both hikes are free and no reservation is required. LLELA does have a $5 per vehicle admission charge.
LLELA was created in the early 1990's when the U.S. Army Corps of Engineers founded a consortium to manage nearly 2,000 acres below Lewisville Dam. Today the LLELA consortium includes the Corps, the University of North Texas, the City of Lewisville, and Lewisville Independent School District. Its mission is to preserve and restore native ecosystems and to provide and promote environmental education and scientific research.
LLELA is open seven days a week for hiking, birding, primitive camping and other wilderness adventures. For information, visit LLELA.org.