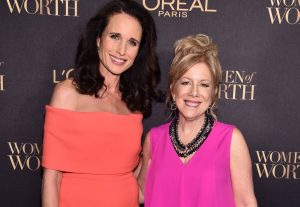 Flower Mound resident and Lewisville business owner, Debbie Sardone of Buckets & Bows Maid Service, walked the red carpet with actress Andie MacDowell on November 16 at a gala event celebrating the L'Oreal Paris Women of Worth.
Sardone was honored as one of ten finalists from amongst thousands of women nominated for their extraordinary service to their communities.
MacDowell, a L'Oreal Paris spokeswoman, escorted Sardone to the glamorous New York City event and introduced Debbie as part of the nominee presentation.
"Hearing the words 'you have cancer' changes your life. While supporting research to cure cancer is important, Debbie Sardone shows us that there are other meaningful ways to support the brave people battling this terrible disease by providing calm and clean homes for women battling cancer," said MacDowell.
In 2006, Sardone, president of Buckets & Bows Maid Service, took a call from a local woman battling cancer who needed her house cleaned but couldn't afford it. She committed to never turn away a woman battling cancer and started Cleaning For A Reason, a 501c3 nonprofit.
Based in Lewisville, Cleaning For A Reason has provided free house cleaning to over 23,000 women locally and nationwide, thanks to the non-profit's outreach to maid services around the country.
L'Oreal Paris has contributed $15,000 to Cleaning For A Reason in recognition of Sardone's commitment to making a difference.
Buckets & Bows Maid Service is currently accepting new cancer clients. If you know a woman battling cancer in southern Denton County who needs free maid service, call Buckets & Bows at 972-219-0400.
For more information about Cleaning for a Reason, go to www.cleaningforareason.org.