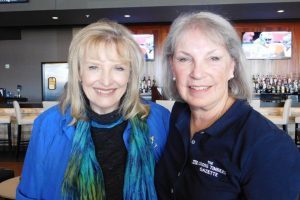 The celebration response for the 70th anniversary of the Christmas film, "It's a Wonderful Life," has taken actress Karolyn Grimes, the movie's character Zuzu Bailey, by surprise.
"I wasn't expecting the shows to go from the original seven screenings to 14 in the Dallas area," said Grimes following the four sold out shows in Flower Mound; two each on Saturday and Sunday. "I guess I'm used to the large audiences up north, where there's snow and winter like in the movie, but I didn't think it was so popular in the south and Texas. I guess the message of the movie reaches people everywhere, regardless of the weather."
The anniversary celebrations are also widespread. On Sunday, Grimes jetted out of DFW following the second showing in Flower Mound to arrive in Los Angeles for the Motion Picture Academy of Arts and Sciences celebration of the film.
"There's a Monday night screening of the film at the academy and the other two Bailey kids are also being flown in to be honored and sit on a panel," said Grimes on Sunday. "Apparently, there's a waiting list and it's really a big deal. I know that Frank Capra, III (grandson of the film's director, Frank Capra) will also be there, but I'm not sure of anything else."
However, Grimes and all audience members can be sure that the celebration for the 70th anniversary of "It's a Wonderful Life" won't be the last. The movie is an enduring favorite and will remain a Christmas tradition.