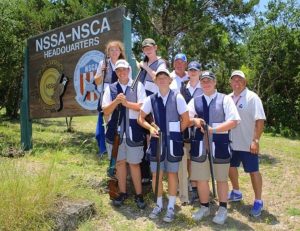 It's a new year for the Liberty Christian Clay Target Team, and officials couldn't be more excited.
The program, now in its second season, could have as many as 20 kids sign up this year. Head coach Troy Cryer hopes those increased numbers – up from around 15 a year ago – will help get the word out while creating some much-needed momentum.
"We are definitely hoping for more. I still think there are a lot of kids out there who don't have a clue this program exists," Cryer said. "The kids that do sign up end up having a really good time."
Cryer is wrapping up safety training now, with plans to kick off the new season in January.
So what is clay shooting, and why start a team at Liberty?
American Trap, Skeet, and Sporting Clays involve shooting at special flying targets with a shotgun, and they are some of the most popular shooting sports – having captured the attention and skill of thousands of athletes across the United States. Cryer said what was around four high school teams and less than 100 kids has exploded to 3,000 kids and 250 teams in Texas.
Cryer added competitions are held all over the state and that other area teams include Marcus, Flower Mound, Allen, Coppell, and Southlake Carroll.
Liberty's program developed after briefly sharing a team with Argyle students, and it is designed to work with boys and girls in grades 7–12 with intermediate, junior varsity, and varsity levels. The best part is that participants don't need to have prior experience. They just need the desire to shoot, do it safely, and practice regularly.
Cryer said he and other officials have done plenty of heavy lifting trying to get this program off the ground, but it has been worth it. He pointed to students such as junior Kassidy Keith, a newcomer to the sport last year who recently won High Lady honors in the JV league. Henry Dickman, an eighth grade student at Liberty, has also made significant strides.
"It's fun to see how much they've progressed after just five months of shooting in some cases," Cryer said. "They go from having zero experience to consistently shooting in the 90s. We were able to place in several state competitions last year."
Cryer said he was first approached about starting a team by several fathers who had children at Liberty Christian and were interested in giving their kids a chance to stay active and letter in a sport. Like previously mentioned, several of those students were on a mixed team with Argyle students, but the time had come to branch off and create a new team.
Cryer gladly took on the responsibility of leading the new squad.
While the sport is fun, the primary objective for all clay target teams is safety.
According to the team website, this team learns from former Olympic athletes, professional shooters, and industry experts – all of whom provide helpful insight on improving skills, mental toughness, tips, and secrets used to compete in championships. Training requirements focus on firearm safety, proper stance, gun fitment assistance, goal setting, and more.
"The kids have a great time out there, and unlike a lot of other sports that are really demanding of their time, we just aren't like that," Cryer said. "Of course, with the more practice they get and the more competitions they compete in, the better they will become."
Cryer added, "We are right on track with where we thought we would be."
Like previously mentioned, the team is open to boys and girls, and both group and private lessons are available.
If you would like more information on the clay target team, visit www.lcsclaytargetteam.com.