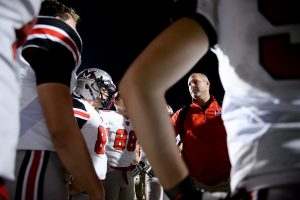 Argyle 55, Burkburnett 30
Argyle wrapped up a perfect season and a district championship with a 25-point victory over Burkburnett on Friday night.
Don Williams rushed for 123 yards and four touchdowns in the game for the Eagles.
Argyle will face Synder in the bi-district playoffs Thursday night in Graham.
Liberty Christian 33, FW Nolan 31
Liberty won it's season finale in dramatic fashion on Friday, defeating FW Nolan on a last second field goal from Cameron Baller.
It was the Warriors fourth consecutive victory.
They will host a home playoff game next week.
Guyer 30, Plano West 10
The Wildcats led 24-3 at half time and never looked back on Friday night.
Noah Cain rushed for 137 yards and three touchdowns in the game.
Running back Myron Mason broke his elbow during the pregame festivities and will be out for several weeks.
Flower Mound 36, Lewisville 22
The Jaguars ended their season on a high note with a 14-point victory over Lewisville to finish the season with a 4-6 record.
Jackson Averitt passed for 240 yards and a touchdown and rushed for a touchdown in the game for the Jags.
Coram Deo 49, Fellowship Academy 6
The Lions finished the season with an 8-2 record after defeating Fellowship Academy 49-6 in Kennedale on Friday night.
Brooks King had touchdown runs of 9 yards and 35 yards in the game.
Euless Trinity 35, Marcus 17
The season came to an end, as did playoff hopes, on Thursday night for Marcus, after coming up short to Euless Trinity.
Reed Osborn threw two touchdowns for the Marauders in the game.