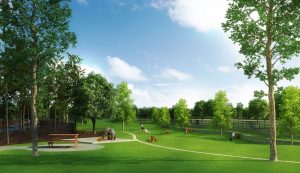 Work on a one-acre dog park at Lakeside DFW in Flower Mound is expected to begin soon, according to officials at Realty Capital, master developer.
The site is located just east of the central roundabout at the intersection of Edgemere and Lakeside Parkway, adjacent to the wooded area fed by a creek.
Enclosed by iron fencing and surrounded by the Lakeside Trail, the park will include several entrances and offer picnic tables and benches for pet owners. 
Use of the dog park will be for Lakeside residents only.  A set of rules and regulations for dog owners is currently being drafted.
Many trees in the area, including some adjacent to the creek and along the trail, have been lighted to provide security and add to the area's beauty after sunset.
The area was initially dedicated solely as a detention basin, a requirement of the town when a new property is developed, to detain storm runoff from the newly developed property so it does not adversely impact neighboring properties.
"Members of the community hoped this space could be used for another purpose," said Jimmy Archie, managing partner of Realty Capital. "We explored a number of options. We concluded that a dog park would be popular and provided an amenity that could survive flooding without suffering any real damage."
The park is expected to open in December.