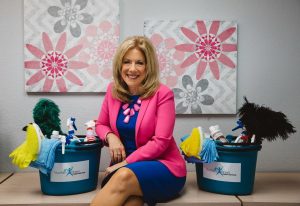 Debbie Sardone of Flower Mound has been named as one of 2016's Top Ten American Women of Worth nominees by L'Oréal Paris.
Women of Worth, now in its 11th year, honors women who selflessly volunteer their time and serve their communities. Each year, 10 extraordinary women are chosen from thousands of nominations and honored for the impact they have made.
Each honoree is receiving a $10,000 donation plus support to enhance awareness for her cause from L'Oréal Paris. The public is invited to support the 10 inspirational women by sharing the women's stories and voting for a National Honoree, who will receive an additional $25,000 for her cause.
All 10 nominees will attend the L'Oréal Paris Gala on Nov. 16 in New York City. Each woman will show a professionally-created video about her cause and speak to an audience of executives, celebrities and the media. The National Honoree will be named that evening.
Sardone was named a 2016 honoree for her unwavering commitment as founder and president of the nonprofit Cleaning For A Reason. She created the nonprofit in May 2006 to give the gift of free house cleaning to women undergoing treatment for any type of cancer.
"I am honored to be recognized for making an extraordinary difference in my community," said Sardone. "It's wonderful when local people and businesses support each other.  Our goal is to let these brave and strong women focus on their health and treatment while we focus on– and take away the worry and work of– cleaning their homes free of charge."
Sardone witnessed the need as the founder and president of Buckets & Bows Maid Service, Inc., based in Lewisville. She'd had a call with a prospective client who told her: "I won't be able to afford that now; I'm undergoing cancer treatment" and then hung up.
Without having the woman's phone number, Sardone was unable to call her back to make arrangements; and, in that instant she decided no woman undergoing cancer treatment would ever be turned away by her business. In fact, they would even be offered a free housecleaning service.
In 2005, Sardone shared her story with other maid services at a national cleaning industry convention. She shared that it was these women– undergoing the physical, emotional and financial rigors of cancer treatment– who needed professional housecleaning services the most.
Immediately after sharing her story, a rush of cleaning business owners expressed their interest and support. After returning to Texas, Sardone registered Cleaning For A Reason as a nonprofit organization. At the next convention, maid services signed up to donate their services on the spot.
"Nationally, we have recruited over 1,200 maid services to donate free housecleaning to women who are undergoing treatment for cancer," said Sardone. "Since 2006, our partner maid services have volunteered their time to clean for more than 22,600 women, with a value of more than $6 million. Our goal has been to reduce the stress and ease the burden a woman faces once a cancer diagnosis is received. A patient can then focus on her health and family and not on her home."
Visit WomenofWorth.com to vote for Sardone daily as the National Women of Worth Honoree through Oct. 28, or text the word "remind" to 214-220-4960 to receive a link to vote and help Cleaning For A Reason win the additional $25,000 donation.
As another way to expand the nonprofit's ability to assist cancer victims, Cleaning For A Reason has started hosting Corporate Volunteer Days as a community service option. Locally, the first event was on Sept 30 with 20 volunteers from Texas Health Presbyterian Hospital Flower Mound, who cleaned the homes of 10 women battling cancer.
"At the end of the day, the volunteers were really tired, but every one of them said how much they got from helping the women and how they got to see first-hand how much it meant was really satisfying," said Sardone.
Any business interested in a Corporate Volunteer Day of service should either contact Sardone directly at 972-827-7837, or visit the Buckets & Bows Maid Service website at: [email protected].
Even with the strides Cleaning For A Reason has made, Sardone has future goals for both the organization and her personal contributions.
"Obviously, for the future of the organization, I would like it to become self-funding and not have to worry about whether a sponsor will remain or if we'll need to find another," she said. "It would be wonderful if groups would have fundraising events so we could be sustained by regular funding by the public. It's hard for me to be the person who asks for money; I'm better at giving away our services."
It's that passion to share her knowledge and business acumen with others that drives her personal future vision.
"I'm one of those goal-driven people and training other maid services how to be better at their business … I love to do that," she said. "I love to expand personally through mentoring and giving speeches and attending conferences. My goal is to spread the word through social media and conferences to add more maid services in every community to the existing 1,200. I'm a firm believer of: 'just give and it will work out.'"
For more information about Cleaning For A Reason, visit: www.cleaningforareason.org.
She has also partnered with the Ford Motor Company in its nonprofit program to provide 500 women undergoing treatment for breast cancer one free house cleaning. Apply here.