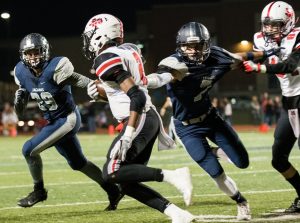 Marcus 48, Flower Mound 45
The Mound Showdown did not disappoint this season, taking two overtimes to determine the victor.
Marcus emerged with the win, but Flower Mound quarterback Jackson Averitt had a phenomenal night, passing for 353 yards and three touchdowns.
Marauders running back Justin Dinka had an impressive night of his own, rushing for 213 yards and four touchdowns, including the game winner.
Argyle 27, Sanger 21
The Argyle football team held off Sanger in what proved to be its biggest challenge of the season on Friday, and remains unbeaten in 2016.
Don Williams rushed for 173 yards and a touchdown in the game for the Eagles.
Liberty Christian 17, Bishop Lynch 14
Kason Howell scored on a 7-yard run with 1:16 remaining in the game to get Liberty Christian the victory in a low scoring affair.
The Warriors overcame a 14-0 halftime deficit to win the game.
Guyer 35, Wylie 23
The Wildcats got back on track this week, as Noah Cain rushed for three touchdowns to lead Guyer to a victory over Wylie.
Myron Mason rushed for 102 yards and a touchdown and Thabo Mwaniki rushed for 121 yards for the Wildcats.