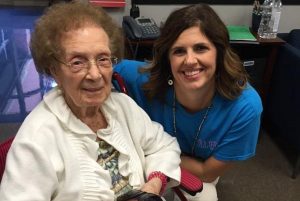 by Tristen Wilson
As part of the normal Friday routine at Old Settlers Elementary in Flower Mound, the campus meets for an assembly where students and staff participate in announcement and celebrations.
However, on Friday, Sept. 23, the assembly was far from normal. Students honored 105-year-old community citizen and Oaks Assisted Living and Memory resident Erna Olsen with an "Honorary Teacher Award" at Old Settlers for her work as a former educator.
Born March 8 1911, Olsen has learned a lot in her lifetime. After graduating high school, Olsen sought a career in education and received her teaching certificate from Mankato State Teachers College in Mankato, Minnesota during The Great Depression. Jobs were scarce, but she landed her first job as a first-grade teacher in her own hometown.
Old Settlers Principal Kelly Hayunga said it was a great experience and honor for students to be in the presence of someone who has lived over an entire century.
"It allowed us to have discussions with students about everything she has lived through," Hayunga said. "It really helped bring history to life for them and gave our students a new found admiration and respect for an older generation."
Hayunga said she was glad the school was able to recognize Olsen for her efforts as a former teacher in Minnesota.
"When we can find opportunities like this to give back and say thank you to our community, it is important that we do," Hayunga said. "We really wanted to her to know that all her work in the past as an educator was and is still appreciated."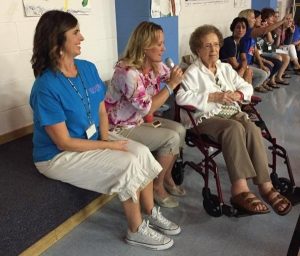 The recognition was a surprise for Olsen who did not know she was receiving the award before the assembly. As part of the recognition, Olsen was presented with an Apple award to take back to her home.
"I was flabbergasted," Olsen said. "I didn't feel like she deserved it, but I was so honored and loved seeing all the children. It brought back a lot of memories."
The idea was a collaboration between Old Settlers and Oaks Assisted Living and Memory Care Activity Director JoAnn Higgins.
"At Oaks Assisted Living and Memory Care, we try to look for miracle moments in our resident's life that helped make them who they are today," Higgins said. "For Erna, she was a longtime educator and her husband was a teacher and former superintendent. We knew it would mean a lot and so we got together with Old Settlers to see how we could make it happen."
Higgins said she is thankful for the relationship with Lewisville ISD.
"We have a great partnership with LISD and several student groups in the district participate in activities with us. It is valuable for the students and our residents. They build real relationships and learn from each other. This last partnership was something special. Erna was thrilled to see and hear the kids. You couldn't miss the smile on her face. It was really sweet and we are grateful to Old Settlers for the opportunity."