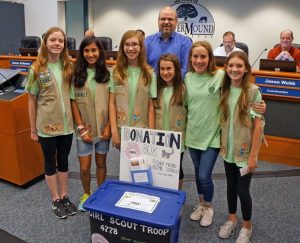 In an effort to earn the prestigious Silver Award, Girl Scout Cadette Troop 4778 set their sights on raising awareness about Flower Mound Animal Services and ways residents can help contribute to the success of the Flower Mound Animal Adoption Center.
The troop created a campaign called "Hand to Paw Month," which runs from October 15 to November 15, where local business partners display donation bins on site, encouraging residents to help restock the Adoption Center with needed supplies like litter, dog and cat food, blankets, beds, and more. See the full list of brand specific items needed by visiting the Animal Services website.
Donations drop boxes can be found at the following Flower Mound businesses now through November 15:
• Flower Mound Town Hall, 2121 Cross Timbers Road
• Flower Mound Senior Center, 2701 W. Windsor Drive
• Flower Mound Public Library, 3030 Broadmoor Lane
• Flower Mound Community Activity Center, 1200 Gerault Road
• Kroger, 2709 Cross Timbers Road
• Old Settlers Elementary, 2525 Old Settlers Road
• Kwik Kar Wash & Detail Center, 2801 Flower Mound Road
• PetSmart, 6060 Long Prairie Road
Residents can also bring donations directly to Flower Mound Animal Services, 3950 Justin Road, to check out the adoptable pets, and receive a free bumper sticker.