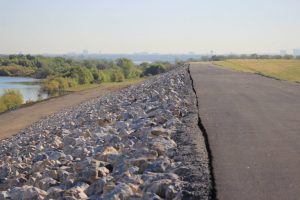 Looking south from the top of the nearly six-mile-long, 125-foot-tall embankment, one can see the distant skyline of Dallas. To the north, 587,000 acre-feet of water impounded in Lewisville Lake stretches nearly to the horizon.
Keeping the two separate is the function of the 60–year–old Lake Lewisville Dam, which serves the vital duties of flood control and water supply for the region.
Recent fixes by the U.S. Army Corps of Engineers to the tune of $6.4 million will help ensure the dam keeps working as intended.
Although the slide repairs are complete, much more work remains for safety modifications to the dam.
Read more from The Lewisville Texan Journal.