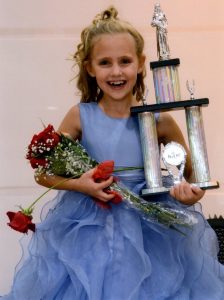 One Highland Village second-grader and her family will be traveling to Disneyland in Anaheim, Calif., during the upcoming Thanksgiving week. Unlike most visitors to the Disney park, however, Jaclyn Perri Webb, 7, is representing Texas in the National American Miss Pageant.
The Heritage Elementary School second-grader is the daughter of Jeff and Shannon Webb, has earned the opportunity to attend Nationals through her event scores in: community service; résumé; poise and presentation in formal wear; personality during interviews; and, an on-stage introduction.
Jaclyn lives in Highland Village, is in second grade and loves her Heritage Elementary School, where she is a straight A-student.
The National American Miss Pageant program is based on inner-beauty, as well as poise and presentation.
Emphasis is placed on the importance of gaining self-confidence, learning new skills, learning good attitudes about competition and setting and achieving personal goals.
Her additional activities include volunteering for the American Heart Association and YMCA's Buddy Sports program, Castlewood Swim Team, Dance Space company dance team, soccer, piano and Brownies, plus she enjoys reading and playing with her baby dolls.  She also loves family time, friends, and her two pet pups– Baby Boo and Patton.
Jaclyn will have the opportunity to win her share of more than $500,000 in cash and prizes.
Find out more about National American Miss at www.namiss.com