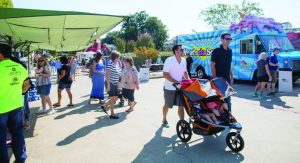 Mark your calendars for an event that promises good food and good times.
The FloMo Food Truck Fest is scheduled for this Sunday, Oct. 9, from 11 a.m. to 6 p.m. at Parker Square, 800 Parker Square off of FM 1171 in Flower Mound.
The good food—fresh tacos, tasty barbecue, mouth-watering pizza, scrumptious Maine lobster, vegetarian and vegan cuisine, and cooling snow cones and ice cream—will be available from 26 food trucks.
The PieHole, For Love of Pizza, Mad Grill, What's da Scoop?, KB's Brats, Coochies BBQ, Cousins Maine Lobster, Chile Pepper Grill, easy slider, Bombay Street Food, Gandolfo's New York Delicatessen, and Chez Flo, are among the many food trucks that will be in attendance.
The good times will be provided by the camaraderie of families, friends, and neighbors; shopping opportunities at 50 vendors' stands; and the music of three bands to perform in the gazebo. Vendors will be offering toys, fitness, essential oils, chocolates, jewelry, beauty supplies, jams, etc.—in other words, there will be something for everyone.
The three bands will be a Rolling Stones cover band called The Stoneleighs, a rock and roll band, Van Gogh's Ear, and the tunes of Charles Spradling Classic Rock. Children can enjoy activities designed with them in mind at the Kids' Zone and pets can relax in the Earthwise Pets & Puppy Zone.
This year's FloMo Food Truck Fest will be the second time the event has been presented to the community by Congregation Kol Ami.  "Last year, we had 16 food trucks, a Kids' Zone, and 40 vendors and it was held on the temple grounds. We were expecting around 500 people to show up and were very pleasantly surprised when it turned into about 6,000," said Laurie Appelbaum, one of three event chairpersons.
The success of last year's event made Appelbaum and her co-chairs, Gabrielle Giddan and Caren Bornstein, realize they needed a larger venue. They approached Curtis Shore, one of the new investors in Parker Square, to see if they could hold the 2016 food truck fest there. Shore agreed to Parker Square hosting this year's event.
Appelbaum said the FloMo Food Truck Fest is also showing appreciation for Flower Mound's Firefighters & Police.  First responders and their family members may obtain special colored wristbands from their departments that will grant them free access to the event.  At 2 p.m. during the event, Flower Mound Mayor Tom Hayden, along with Boy Scout Troop #265, will lead a ceremony recognizing the dedication of the town's first responders.
As with any experience, Appelbaum said that organizers of last year's FloMo Food Truck Fest have learned a lot. "We had to call the EMTs three times because it was 95 degrees that day and a couple of people succumbed to the heat. Also, we found out we couldn't use non-police officers to direct traffic," she said.
She also pointed out the positives of the inaugural event.
"What was really great was seeing the 160 families of our congregation all come together to volunteer. Everyone worked together to pull off such a fantastic event."
Immediately after the conclusion of last year's event, organizers began planning this year's and their previous experience was one of the reasons they desired Parker Square as the venue since it provides much more shade and a larger space.
"The success of last year's FloMo Food Truck Fest helped us obtain sponsors for this year's event," noted Appelbaum. "This year, Parker Square, Pioneer Realty, Tom Thumb-Albertsons, Earthwise Pet Supply, and Big Frog Custom T-shirts and More all volunteered to be sponsors. Parker Square donated the space to hold the event, Pioneer Realty developed our website, Tom Thumb-Albertsons donated bottles of water and soda, Big Frog Custom T-Shirts donated our volunteers' t-shirts, and Earthwise Pet Supply is operating the Puppy Zone."
Other sponsors include: The Jordan Elizabeth Harris Foundation, Core Physical Medicine,  Christen O'Brien – Re/Max DFW Associates, DKH Academy, Newman & Taub Vision Center, Stuart Lipton, MD, mdneurology,  Stepping Stones, Pediatric and Adolescent Medicine, Next Step Recruiting, Bounce 'n More, Strickland's Taekwondo, Frontier Communications, MB Orthodontics, Tri Star Construction, Dido's Urban Grill, Kuzmich Law Firm, Next Step Recruiting, Grace Community Assembly of God, and VCA Animal Hospital.
The Kids' Zone for children aged 10 and under will this year host a zip line, bounce houses, face painting, balloon artists, and more.
"We will have tables and chairs for attendees to eat on but people are welcome to bring their own chairs and blankets," said Appelbaum. "Parking will be available at Parker Square and also across the street at the Lamb of God Lutheran Church after 11:30 a.m. Bathroom facilities, including those for handicapped, will be provided. The event will be pet friendly but we ask that people clean up after their pets. Since safety is our priority, we will have security —Flower Mound police officers on foot, on bicycles and in an elevated command post.  EMS will also be on site."
Coolers will not be allowed and no alcohol will be available for purchase from the food trucks. Appelbaum said that attendees who want to buy alcoholic drinks or other food may do so from Parker Square restaurants, including Yellow Rose Steak & Chop House and Manchale Indian Restaurant and Bar, scheduled to be open.
Admission to the event at the door will be $5; you can also go online to www.flomofoodtruckfest.com and pre-register. For your admission price, you will receive an entry wristband, free parking, a bottle of water, free admission to the Kids' Zone, and free access to all-day entertainment.
While the FloMo Food Truck Fest is a fundraiser for Congregation Kol Ami, this year, 10-percent of the proceeds will be donated to The Jordan Elizabeth Harris Foundation, dedicated to eradicate suicide by funding depression research, creating awareness, erasing the stigma, and providing hope to those who are struggling.
For more information or to pre-register, visit www.flomofoodtruckfest.com or Facebook or call 469-844-OYUM (0986).