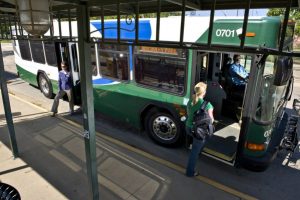 The Denton County Transportation Authority (DCTA) will host a series of public meetings in October to share proposed Denton Connect Bus service changes, North Texas Xpress commuter bus service along the I-35W corridor, DCTA-sponsored Uber discount offered in Highland Village, and the agency's FY '17 budget overview.
Public meetings will be held in Highland Village, Denton and Lewisville:
Highland Village – meeting will be held on Monday, October 10, from 6 p.m. to 7 p.m. at the Highland Village Municipal Complex (1000 Highland Village Road)
Denton – meeting will be held on Tuesday, October 11, from 5 p.m. to 7 p.m. at the Euline Brock Downtown Denton Transit Center (604 East Hickory St.)
Lewisville – meeting will be held on Thursday, October 13, from 6 p.m. to 7 p.m. at the Lewisville Public Library (1197 W Main St.)
For those who are unable to attend, DCTA will host a public meeting video for online viewing at www.RideDCTA.net from Monday, October 10 until Friday, October 14. An online feedback form will be available and individual comments are encouraged.
Everyone is welcome to attend the public meetings. Persons with hearing or sight interpretive service needs are asked to contact DCTA at least two business days in advance of the meeting at 972.221.4600 or [email protected].