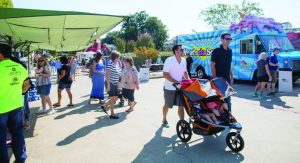 The 2nd Annual FloMo Food Truck Fest, will roll in to Parker Square on Sunday, Oct. 9, from 11 a.m. to 6 p.m.
The good food— tacos, barbecue, pizza, Maine lobster, vegetarian and vegan cuisine, plus snow cones and ice cream and more—will be available from the 26 food trucks scheduled to participate.
Among the vendors are– The Pie Hole, For Love of Pizza, Mad Grill, What's da Scoop?, KB's Brats, Coochie BBQ, Cousins Maine Lobster, Chile Pepper Grill, Easy Slider, Bombay Street Food, Gandolfo's New York Delicatessen and Chez Flo.
In addition to the food trucks, there will be shopping opportunities at more than 50 vendors offering toys, fitness items, essential oils, chocolates, jewelry, beauty supplies, jams and more.
There will be three different bands playing in the gazebo throughout the day: The Stoneleighs, a Rolling Stones tribute band; Van Gogh's Ear, a classic and contemporary rock and roll group; and, Charles Spradling playing classic rock.
Children can enjoy activities designed with them in mind at the Kids' Zone and pets can relax in the Puppy Parking Zone.
This year's FloMo Food Truck Fest will be the second time the event has been presented to the community by Congregation Kol Ami of Flower Mound.
"Last year, we had 16 food trucks, a Kids' Zone, and 40 vendors and it was held on the temple grounds," said Laurie Appelbaum, one of three event chairpeople. "We were expecting around 500 people to show up and were very pleasantly surprised when it turned into about 6,000."
The success of last year's event made organizers realize they needed a larger venue. They approached Curtis Shore, one of the new investors in Parker Square, who agreed they could hold the 2016 Food Truck Fest there.
Appelbaum said the 2016 FloMo Food Truck Fest is recognizing the town's first responders by marking Oct. 9 as Flower Mound Firefighter & Police Appreciation Day.
First responders and their family members may obtain special-colored wristbands from their departments which will grant them free access to the event.
At 2 p.m. during the event, Flower Mound Mayor Tom Hayden, along with Boy Scout Troop #265, will lead a ceremony recognizing the dedication of these first responders.
In addition, the Carter BloodCare bloodmobile will be onsite for those interested in donating blood.
She also pointed out the positives of the inaugural event: "What was really great was seeing the 160 families from our congregation work together to pull off such a fantastic event."
As with any experience, Appelbaum said organizers of last year's FloMo Food Truck Fest learned a lot.
"We had to call the EMTs three times, because it was 95-degrees that day and a couple of people succumbed to the heat," she said.
Immediately after the conclusion of last year's event, organizers began planning this year's Food Truck Fest and their previous experience was one of the reasons they hoped Parker Square could be the venue, since it provides much more shade and a larger space.
"The success of last year's FloMo Food Truck Fest helped us obtain sponsors for this year's event," noted Appelbaum.
This year, Parker Square donated the event space, Earthwise Pet Supply is operating the Puppy Parking Zone, plus Pioneer Realty, Albertsons-Tom Thumb and Big Frog all volunteered to be sponsors and donated event-related items.
Other sponsors include The Jordan Elizabeth Harris Foundation, Core Physical Medicine, Re/Max DFW Associates Flower Mound, DKH Academy, Newman & Taub Vision Center, Dido's Urban Grill, Kuzmich Law Firm, Next Step Recruiting, MD Neurology, Stepping Stones Pediatric and Adolescent Medicine and Grace Community Assembly of God.
This year, the Kids' Zone will be free for children ages 10-and-under and will include Bounce n' More's two-lane zip line, a giant obstacle course, a vertical slide and a toddler funhouse. There will also be face painting, balloon artists, a LEGO area and more.
"We will have tables and chairs for attendees to eat on, but people are encouraged to bring their own chairs and blankets," said Appelbaum. "Parking will be available at Parker Square and also across the street at the Lamb of God Lutheran Church after 11:30 a.m.
Bathroom facilities, including those for handicapped, will be provided. The event will be pet-friendly, but we ask that people clean up after their pets.
"Since safety is our priority, we will have security—Flower Mound police officers on foot, on bicycles and in an elevated command post. EMS will also be on site," she said.
As posted on the website, coolers will not be allowed and no alcohol will be available for purchase from the food trucks. However, attendees who want to buy alcoholic drinks or other food may do so from Parker Square restaurants, including Yellow Rose Steak & Chop House, Manchale Indian Restaurant and Bar, plus Taco Brone, all of which are scheduled to be open.
Admission to the event at the door will be $5; however, if pre-registering online at: www.flomofoodtruckfest.com before Sept. 30, the cost is only $4.
The admission price includes an entry wristband, free parking, a bottle of water, free admission to the Kids' Zone and free access to all-day entertainment.
Although the FloMo Food Truck Fest is a fundraiser for Congregation Kol Ami, this year 10-percent of the proceeds will be donated to The Jordan Elizabeth Harris Foundation.
The Jordan Elizabeth Harris Foundation is dedicated to eradicating suicide by funding depression research, creating awareness through education, erasing the stigma and providing hope to those who are struggling in silence. The Jordan Elizabeth Harris Foundation is also sponsoring the Kids' Zone.
Those desiring more information or who want to pre-register should visit: www.flomofoodtruckfest.com or www.facebook.com/events/451611788362522/ or call 469-844-OYUM (0986).