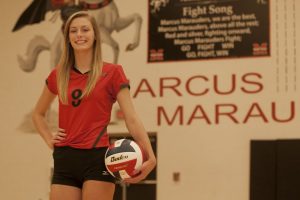 Marcus senior Kelly Greer has successfully invested her time in both academics and athletics, earning Academic All-District and All-District Athletic honors in 2015 for the Lady Marauders Volleyball team; becoming the true embodiment of a student-athlete.
"It's obviously hard to balance, which means spending a lot of nights up late studying after games or tournaments, but to play the sport I love it's all worth it," said Greer. "It takes a lot of dedication and discipline, which I've found are both necessary in academics and athletics."
Her dedication to the sport began when she started playing in fifth grade.
She embodies the same drive to succeed as another "setter" and volleyball icon, Kerri Walsh Jennings: "Passion is a huge prerequisite to winning. It makes you willing to jump through hoops, go through all the ups and downs and everything in between to reach your goal."
Greer's academic prowess (4.6 weighted grade point average) has not been lost on coach Danielle Barker, who said her senior setter's ambition and focus have allowed her to be successful in both arenas.
"It is vital to have a player like Kelly on any team in order to be successful at a higher level, especially as a setter," Barker said. "The setter is the quarterback of the team and Kelly does an amazing job of leading and making the right decisions to help set the team up for success."
Barker added that having a player of Greer's aptitude makes it much easier for her as a coach to focus on what the Lady Marauders are doing well, as well as where they need improvement.
"Kelly is very intelligent and a phenomenal student-athlete," Barker said. "She is able to be successful in both aspects because of how well she manages her time and how focused and driven she is; whether on the court or in the classroom. Kelly doesn't settle for anything less than her best."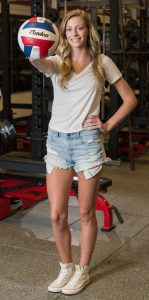 Greer, 17, who is ranked 100 out of her class of 807, said she has always placed a strong emphasis on her school work, due in large part to two factors: sibling rivalry and peer pressure.
"Academics have always been really important to me," Greer said. "My brother was always a really smart kid, so I had to fill the same expectation. The coaches do a good job of keeping track of our grades, so you have to work hard in the classroom. We have a smart team, too, so it's easy to stay on top of things when you're surrounded by a group of people who are just as invested in their education as you are."
Greer, who is also a member of the National Honor Society, French Honor Society and Math Honor Society at Marcus, said that she has put in a lot of hard work this summer to prepare for her senior year and beyond.
"As far as academics, I've been working on getting community service hours for the honor societies I'm in," Greer said. "I've also been doing summer reading for school and working on college applications."
Greer's preparation for her future also fits the advice given to any student athlete by University of Alabama head football coach Nick Saban, who once said: "when you invest your time, you make a goal and a decision of something that you want to accomplish."
The five-time national champion coach added that: "whether it's 'make good grades in school, be a good athlete, be a good person, go down and do some community service and help somebody who's in need,' whatever it is you choose to do, you're investing your time in that."
Greer said: "For volleyball, I've mostly been working on perfecting the skills I already know and continuing to improve. The University of California Santa Cruz hired me to fly out and coach a camp in early July, and coaching really gave me a new perspective on the sport and made me realize some things I can work on as a player."
Her sentiment echoes another Walsh Jennings quote: "I don't want to be better than you or her or him– I want to be better than I am right now."
Greer said she has also worked on improving her general health and fitness level over the offseason.
"The Marcus Volleyball program did the Performance Course training program over the summer which really got me in shape and I'm pretty picky about having a healthy diet during the season," Greer said.
Greer's devotion to her team and academics has been a great example for her Marcus teammates. Barker said that for the Lady Marauders to enjoy any success this year, it will take Greer fulfilling her role as a team leader.
"Kelly brings leadership and a high-level of volleyball knowledge to the team," Barker said. "She is a vocal leader and leads by example on and off the court. Kelly is also very calm in all situations, which is very important to have in a setter. Her high volleyball IQ elevates the rest of the team to a higher level."