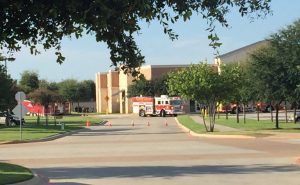 A shoe store in Highland Village was evacuated after an unknown odor caused people to suffer respiratory issues on Saturday afternoon, authorities confirmed.
Shortly before 3 p.m., Highland Village medics were dispatched to the DSW Shoe Warehouse on FM 407 at FM 2499 after 15 people reported trouble breathing, according to Highland Village Public Affairs Manager Laurie Mullens.
"My daughter and I were in the store shopping for about 20 minutes. We went to the very back to the clearance section. I heard a person sneeze and then cough. We both started coughing shortly after that. Our noses started burning and we agreed to leave. On our way out the door, there were numerous people coughing. We all headed outside. The employee opened the double doors but went back inside," said customer Eileen Custer.
"There was no smoke or fumes that we could see but we both had headaches shortly after leaving the store. We sat on the car and watched people coming out of the store coughing. We could only assume it was something coming out of the vents."
No one was transported to the hospital and the situation was contained to the shoe store.
Medics evacuated the building and a Denton County Hazmat team responded to the scene to investigate. The source of the odor was not located and the store reopened around 6 p.m.