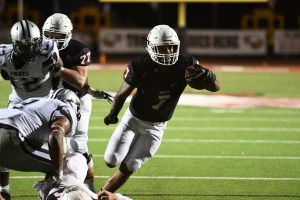 Argyle 47, Paris 10
The Eagles handled Paris on Friday night, taking a 31-7 lead into half time and never looking back.
Don Williams rushed for 81 yards and two touchdowns in the game.
Marcus 45, L.D. Bell 28
The Marauders improved their overall record to 3-1 on Friday night with an impressive victory over L.D. Bell in their district opener.
Justin Dinka rushed for 283 yards and four touchdowns in the game for Marcus.
Guyer 34, Plano 24
Noah Cain rushed for 217 yards and three touchdowns on Friday night as Guyer defeated Plano on the road.
The Wildcats moved to 1-0 in district and have won two straight games.
Southlake Carroll 42, Flower Mound 7
The Jaguars lost their district opener to Southlake Carroll on Friday night to move to 0-1 in 5-6A competition.
Ifeanyichukwu Uzowihe caught a 66-yard touchdown pass in the game for Flower Mound's only trip to the endzone.
Prestonwood Christian 57, Liberty Christian 20
Liberty Christian came up short in its district opener on Friday night, losing to Prestonwood Christian to move to 0-1 in district competition.
Jon Copeland passed for 214 yards and two touchdowns in the game for the Warriors.
Euless Trinity 41, Lewisville 7
The Farmers fall to 2-2 on the season, 0-1 in district play after a drubbing by undefeated Trinity.