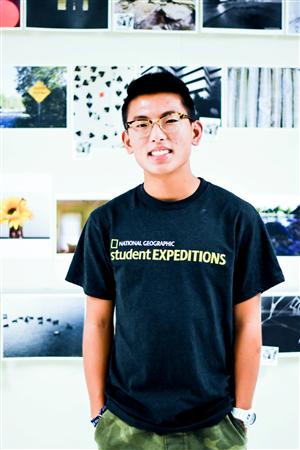 It only takes a two-minute conversation with Flower Mound High School senior Nicolas Chae to realize he sees the world through a different lens. His creativity, ambition and love of travel all culminate in something quite beautiful.
"I started photography as kind of a hobby just taking pictures in my backyard with my phone," Chae said.  "I submitted one of the pictures of a dandelion in the sunset to a local photography contest and ended up winning first place and $300. I used that money to purchase my first camera. Since then, I've been trying to improve every chance I get."
It was Chae's determination to advance his skills that motivated him to look into the National Geographic Student Expeditions this past summer. The program offers student travel trips around the world to inspire imagination and instill global perspective, independence and compassion for others. Students have the opportunity to choose a location and a field of study to explore.
"My mom and I were looking at things to do over the summer and this one just stuck out to me," Chae said. "I really liked that it allowed me the opportunity to work with experts in photography and filmmaking, while learning about another country and its culture. We knew 22 students were given scholarships last year and thought, why not give it a try?"
Chae quickly began working on the scholarship essay and gathering letters of recommendation for the application process.
"I was pretty anxious to find out," Chae said. "It was actually after school in the band hall when I saw the email that I had been accepted on full-scholarship to the destination of my choosing. I immediately called my mom and we just celebrated together."
Chae was one of only twenty students in the nation selected for the honor of an all-expenses paid expedition, valued at $10,000. After reviewing the travel locations, he decided on Educator and the Galapagos islands. He saw an opportunity to explore his passion of photography, as well as practice the Spanish he learned in school. The experience altered Chae's perspective of photography from a hobby, to a possible career in photojournalism.
"When I got to Ecuador," Chae said. "I met the leaders that specialize in photography and biodiversity. I was able to work closely with a teacher at the New York Film Academy and he expanded my knowledge about the industry and technical aspects."
FMHS Visual Arts and Photography teacher Suzanne McLeod believes Chae's trip not only benefited him, but his FMHS classmates, as well.
"Nic was able to bring his experience back into the group," McLeod said. "It is a strong motivator for the other photo students. We had a couple of other students who traveled this past summer and came back with images of Greece and Kenya. They all learn from each other and keep raising the bar each year.  It's really amazing to see the positive influence they have on each other."
In addition to his accomplishments behind the camera, Chae is an active leader in the FMHS band, an Advanced Placement (AP) student and was recently named a 2017 National Merit Semifinalist.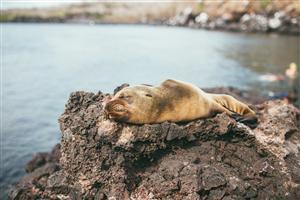 "Nic is a true artist with a tremendous work ethic," McLeod said. "He is always pushing himself and trying new techniques to become an amazing photographer. I am so proud of Nic and his accomplishments. And I am proud to say there was a Jaguar at the Galapagos Islands!"
To get a peek at Chae and several other FMHS students artwork, visit the State Fair of Texas beginning Sept. 30. Students received placements in the categories of photography, portrait, ink, animal/bird and still life.
To see more of Chae's expedition photography check out FMHS' Facebook page.
To watch his films of Ecuador and the Galapagos Islands, visit his YouTube Page.
Butterfly and seal photos courtesy of Nic Chae.