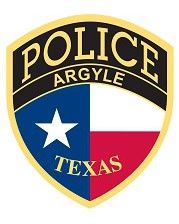 The following is a summary of incident reports recently made to the Argyle Police Department as compiled by the staff of The CTG:
On Aug. 1, at 3:55 p.m., an attempt to deliver a citation to a resident in the 300 block of Red Bud was unsuccessful; no one answered the door; a successful delivery finally occurred at 11:56 p.m.
On Aug 9 at 2:30 p.m., an officer referred an animal bite report to All American Dogs. The caller was trying to break-up a fight with a Lab and his Boxer, which was the dog that bit him.
On Aug. 19 at 9:30 a.m., there was a report of a loose calf near Old Justin and C Taylor Road. He was reported running back and forth trying to get back inside the fence where his mama was. It was reported that a person from public works showed up and was able to reunite the calf with his mama in the pasture.
At 2 p.m. on Aug. 19, a follow up to a report from a residence in the 300 block of Red Bud resulted in a caller being told the electricity is back on and an oxygen tank can be picked up.
On Aug. 22 at 10:45 a.m., a report of a black steer on the run on W Jeter Rd near S. Gibbons Rd. was received. An employee of an area rancher was being sent to see if it belonged to them.
At 11 a.m. on Aug. 22, a woman called saying she wanted to report being harassed by a person who wanted to buy her purse listed on Craigslist and was concerned when he texted if he could buy her lunch at Earl's Pizza when they met. After she said no, he no longer wanted to buy the purse. The caller was told that, although it was a no-so-smooth move, no criminal offense had taken place.
On Aug. 24 at 5:10 p.m., police took a report of a big white goat on the loose and eating weeds near the railroad tracks by the Hwy 377 and Frenchtown Rd. intersection. A similar goat-event was reported in July.
The white goat was again seen between the tracks on Aug. 25 at 6:30 p.m. and two brown cows were outside the fence at the 77-mile-marker on I-35W about 10 p.m.
On Aug. 26 at 3 p.m., Union Pacific was forced to stop all trains at the Crawford Rd. crossing, because a vehicle pulling a trailer was stuck on the tracks.
Loose livestock—black and yellow cows– appeared near FM 407 and Gateway Dr. on Aug. 26 at 5 p.m. At 7 p.m., a brown cow and her black calf were seen on their way to Liberty Christian School.
On Aug. 27 at 11 a.m., a two-car accident at the Crawford Rd. railroad crossing was reported when both drivers decided to go around the railroad crossing arms at the same time and ran into each other.
A resident in the 700 block of S. Gibbons Rd. called to file an auto theft report upon learning that the car she'd loaned to her boyfriend four days earlier had been found wrecked and abandoned in Coppell. Unconfirmed report that the suspect's Facebook relationship status changed to "It's complicated."