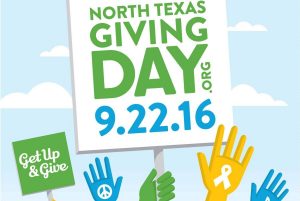 The nation's largest giving day is back for its 8th year on Sept. 22. Last year, more than 130 Denton County-based nonprofits benefited on North Texas Giving Day.
North Texas Giving Day has pumped more than $119 million into local nonprofits over the past seven one-day events and has broken four national giving day records since being launched by the Communities Foundation of Texas in 2009.
"North Texas Giving Day is a day of celebration like no other when generous people from all over the world get up and give to advance their favorite causes and expand their impact," said Susan Swan Smith, chief relationship officer of Communities Foundation of Texas and North Texas Giving Day leader. "We're honored to play a role in enhancing a donor's experience, showing the power of community as we all come together to boost the strength of our nonprofits."
Donations of $25 to $50,000 made from 6 a.m. to midnight on Giving Day to nonprofits listed on www.NorthTexasGivingDay.org will be amplified by more than $2 million in bonus funds and prizes. A full list of prizes can be found here.
The website profiles more than 2,000 nonprofits serving the 16-county North Texas area.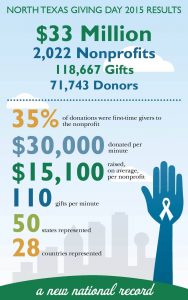 "Because of the $10,000 in donations received during North Texas Giving Day the last two years we have participated, Hearts for Homes has been able to respond to repair requests from our most needy senior homeowners in Denton County and build the capacity to hire our first staff member for this volunteer organization," said Susan Frank, executive director, Hearts for Homes. "Plus, we have been able improve business processes for more efficient, effective and timely management of the important work we do in the community. These funds have become a critical resource to sustain and further our mission to improve the lives of low-income homeowners in the most need."
Donors can give online Sept. 22 between 6 a.m. and midnight or attend an event in Denton that afternoon.
The Denton County Donation Station event will be at Denton Square on the Courthouse Green (110 West Hickory, Denton, TX 76201,) 5 p.m. to 7:30 p.m., featuring live music, University of North Texas' Hank Dickenson as emcee, prizes for attendees, nonprofit booths and performances, and special activities for children.
The event will include comments by Mayor Chris Watts and County Commissioner Andy Eads. The North Texas Book Festival will be giving away books and attendees can have pictures taken with two local award-winning authors, Judy Ann Lowe and Jan Sikes. Activities will include a dunking booth, face painting, and family photo booth with pets courtesy of the Denton Animal Foundation.
To see details for other events, click here.

2015 North Texas Giving Day Highlights from Communities Foundation of Texas on Vimeo.