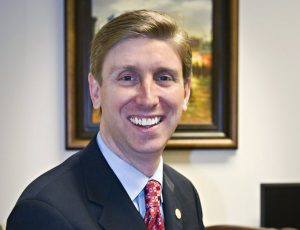 By State Representative Tan Parker
The signs can be hard to see but they are all around us. One of your child's friends asks to stay the night at your home more frequently than others. You notice a teenager alone in a car packed with duffel bags, blankets, and pillows in the parking lot of a supermarket. And there are those students who are hungry, consistently unprepared for class, always vague in discussing their families, and missing school on those days when children are to bring special treats from home.
While it is beyond comprehension, each of these occurrences may have happened because a child is left without a home and is searching for a place in the world to simply survive.  The reasons why youth become homeless are broad – some escape from their homes in order to avoid violence, abuse, and neglect while others have been abandoned due to a divorce or remarriage.  Family poverty can also rob children of the joys of growing up and instead thrust them into a harsh world with little or no means to independently survive. According to the United States Department of Housing and Urban Development, unaccompanied homeless youth represent 7% of the total homeless population in the country.  It has been further documented an astonishing 2.5 million children are now homeless each year in America. This historic high that was recorded in 2014 represents one in every 30 children in the United States.
Unfortunately, the Dallas-Fort Worth Metroplex is no stranger to this issue and Denton County is also greatly affected by this horrific reality. It is estimated that roughly 2,100 teens are living without a permanent home in our county alone. Over 12 years ago, the idea of a non-profit in the North Texas region that would tackle the shortfall of resources addressing at-risk teens and homeless youth was born in the mind and heart of Kimberly Hinkle, founder and executive director of Journey to Dream.
The organization has been dedicated to supporting teens between 13-18 years of age from an assortment of backgrounds and circumstances since its creation. They provide curriculum‐guided, non‐judgmental support groups and educational pathways that will assist these children in staying on the right track and reaching their full potential.
Over the years, I recognize that Denton County lacked an emergency shelter that can provide services specifically tailored to unaccompanied youth. This summer, Journey to Dream has been renovating a building in Lewisville that will operate as the first emergency youth shelter in our community and thankfully the facility is nearly complete. In September 2016, Journey to Dream's one-of-a-kind youth home, Kyle's Place, will open and provide 24-hour care and a secure environment for homeless teens. These services will include food, clothing, medical care, and supportive services in order for these children to regain stability in a safe, faith-based environment.
Over the years, I have worked closely with the organization in addressing this important issue at the state level and also serve as a member of their advisory council. I am so proud of their dedication to our community's teenagers and look forward to volunteering at Kyle's Place myself! Their meaningful work provides a safe environment for our Denton County teens who need it the most and helps them build the skills all children deserve so they may overcome hardships in their personal lives.
If you are interested in getting involved with Journey to Dream, there are an assortment of volunteer options available online. In addition, the organization is still seeking volunteers during the renovation of Kyle's Place and there is a store on their website where you may purchase items to fill the youth home including tables, chairs, appliances, and even naming rights to leave a lasting legacy of support.
The community is also invited to the upcoming "DREAM BIG GALA" taking place on Saturday, October 1, 2016, from 7 – 11 p.m. at the Hilton Garden Inn in Lewisville. All proceeds will go towards the vision of Journey to Dream and Kyle's Place. The night will be filled with fine food, great music, and one-of-a-kind silent auction items all for a terrific cause. Denton County Commissioner Andy Eads will act as the emcee for the event. For additional details and to learn more about Journey to Dream, visit www.journeytodream.com.
As always, it is an honor to serve you in the Texas House of Representatives and I welcome your feedback on this and any other critical state issues. If you would like to share a thought with me, please feel free to contact me at my Capitol office at (512) 463-0688 or by e-mail at [email protected].