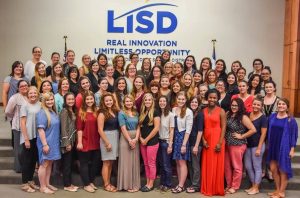 Although school hasn't started for students, Lewisville High School was packed last Tuesday with more than 300 eager and excited faces as new teachers participated in Lewisville Independent School District (LISD)'s annual New Hire Orientation.
LISD Superintendent of Schools Dr. Kevin Rogers opened the orientation with a welcome and thank you for their commitment to students.
"Being an educator is not just a job," Dr. Rogers said. "You are here because you care about kids. As an educator, we should always strive to make a difference and never forget the impact we can have on our students. What begins in your classrooms can have a profound influence on our future."
As a part of the program, first-year teachers are matched with a seasoned mentor teacher to plan, collaborate and assist them throughout the year. Each mentor has a wealth of teaching experience to help new educators navigate and answer questions inside and outside of the classroom.
"Having a mentor teacher has given me someone who I trust and can ask questions to," First-Year Teacher Tenae Sanders said. "I plan to lean on her a lot for resources during the year. I am excited to begin my year with my students and really get to know them."
"You are joining a close family," Dr. Rogers said. "Not only in the school district, but the community as well. We are so fortunate to have incredible support from our business and community members. I truly believe our partnership with our community is important and that together we are what make LISD great."
Several businesses generously sponsored the week with breakfast, lunch and door prizes for new teachers. The week was supported by LISD partners: Denton Area Teachers Credit Union (DATCU), Champions School of Real Estate, CoServ and Credit Union of Texas.
Director of Professional Learning Shawna Miller said her hope is that teachers leave knowing the district is here to support them, not only on a professional level, but a personal level as well.
"We want to provide them every possible resource and support as they begin their career in LISD," Miller said. "Educators have an intrinsic desire to learn and our job is to encourage that desire by providing them with opportunities to grow, improve and gain new perspectives."
In addition, teachers spent the week visiting with the district's department of learning and teaching, exploring programs offered in LISD and working in teams to design engaging lessons. The orientation ended with teachers spending time with model teachers on LISD campuses.
Visit LISD's Facebook page to see more photos.
Meet our first-year teachers. We wish you a successful school year! #LISDB2S16 pic.twitter.com/kjMjGoT0NC

— Lewisville ISD (@LewisvilleISD) August 9, 2016