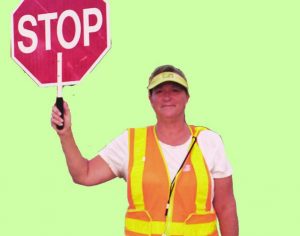 Do you like to whistle while you work? Flower Mound needs a few good crossing guards.
The town is seeking applicants for municipal crossing guard positions to start training immediately. School starts on August 22.
"Currently we have seven crosswalks unstaffed," said Flower Mound Police Captain Wess Griffin. "We have to staff 33 elementary school and 18 middle school crosswalks."
Griffin said that the police department has increased the pay rate from $12.50 per hour to $13 per hour to encourage more people to apply.
"We're looking for people who have a heart for community service and our children, who also have the time to do the job."
Minimum Qualifications:
Applicants must be at least 18 years old. A High School Diploma or General Equivalency Diploma (GED) is preferred. Experience working with children (i.e. day camp, church camp, public recreation, day care, etc.) is required. Must maintain a valid Texas driver's license and driving record must be in compliance with Town policy. Must submit to and pass a post-offer, non-regulated drug test and thorough background checks (including criminal history).
 Supplemental Information:
Must have a general knowledge of traffic laws, designated school zones and crossing areas. Must have good hand-eye coordination to operate equipment (signs, etc.). Must be able to communicate effectively with children. Bilingual communicative skills are preferred. To perform the essential functions of the job, must be able to see, hear, talk, run, walk; to observe and remember names, faces, and details of incidents; to work in adverse environmental conditions, including inclement weather; to follow verbal and written directives; to communicate courteously and effectively with other people and maintain a pleasant and friendly personality at all times; and to exercise good judgement and make competent decisions in all activities.