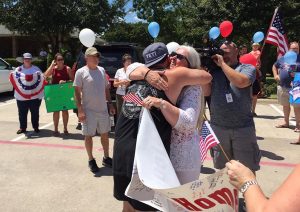 Area residents came together for a surprise "welcome home" celebration for Navy serviceman Johnny Parenteau at Double Oak Town Hall on Saturday afternoon.
During his eight years on the USS Theodore Roosevelt and USS Abraham Lincoln, Parenteau spent time in Bahrain, Singapore, Dubai and other locations around the world. His duties included aviation ordnance and he is exiting the Navy as a 2nd Class Petty Officer with a rank of E5.
Parenteau has followed in the footsteps of his dad, John, who is a Navy veteran.
Upon arrival at Double Oak Town Hall on a sweltering Saturday afternoon, Parenteau was met by attendees holding balloons, flags and homemade poster signs of thanks.
Frenchy's Lawn and Tree Service of Denton brought one of their patriotic painted vans with flags on top. Police cars and fire trucks with lights and sirens also greeted Parenteau.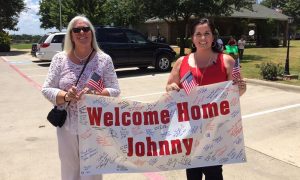 Double Oak Mayor Mike Donnelly presented a framed town certificate, along with a flag and certificate from U.S. Congressman Michael Burgess. Flower Mound Mayor Tom Hayden presented Parenteau with a Town of Flower Mound Proclamation.
Johnny's sister, Katie Saldivar of Double Oak, who organized the surprise welcome home, took time to thank everyone who had helped her plan and participated in the event.
"Today, we thank Johnny Parenteau for his eight years of service and all of our communities join his entire family in welcoming him home," said Double Oak Mayor Mike Donnelly.