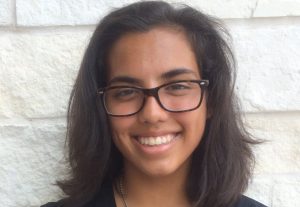 As a sophomore this past spring, Elena Reyna accomplished something most students only dream of—being a member of a Texas State Championship soccer team.
The Flower Mound High School incoming junior not only helped lead the school's soccer program to its first-ever state title, she was selected the MVP of the championship game in the process.
Reyna, 16, who also plays club soccer in addition to being a Lady Jaguar, is also a member of both the National Honor Society (NHS) and Science Club. She said she believes that her extracurricular activities Flower Mound High School are important.
"I enjoy being involved because, as a teenager, I think that it is a good idea to try new things, so you can find your interests and maybe pursue a career," she said.
Reyna said she believes there are a lot of great things about being a young person today, but added that there are also some problems. She said one issue that affects young people today is somewhat ironic.
"While technology is great, it's holding back teenagers, as it totally consumes us," Reyna said. "We always have our eyes fixated on the screen, and there are so many other things we could be accomplishing. I know I'm guilty of this and I'm trying to cut back on screen time.
"We could spend it gaining a new skill or learning something useful. However, when I refer to technology, its social media and games, because you can literally waste hours on it."
Reyna said she has several goals for this coming school year, saying she wanted to "make the high school playoffs, become an officer of either NHS or Science Club, do well in AP classes and make it to ECNL (Elite Clubs National League) playoffs for club soccer."
Reyna's Favorites
Favorite Subject: History
Favorite Athlete: Lionel Messi or James Rodriguez
Favorite Sports Team: FC Barcelona
Favorite Food: Strawberry banana smoothie
Favorite Movie: Roman Holiday
Favorite TV Show: The Middle or Modern Family
Book Currently Reading: Jane Eyre
Favorite Musical Group or Performer: Jon Bellion