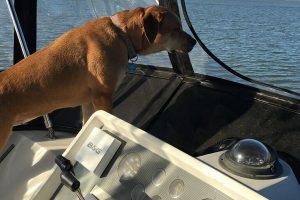 Kory Kendrick of Lewisville knows the importance of keeping canine companions safe, while enjoying the boating life on North Texas lakes.
He is an avid boater who takes his three-year-old dog, Dixie, out on his boat in Lake Lewisville as much as possible.
"Dixie and I have been boating together since she was a puppy," he said. "Dixie loves being on the water and in the water."
Extra attention needs to be paid on the swimming skills each dog has when it comes to being in the lake. People and dogs both often overestimate their skills and frequently don't give enough respect to the water and the weather. Pet-parents sometimes don't prepare accordingly.
"Even though she swims very well without one, I'll put a lifejacket on Dixie if I think she is going to be in the water for an extended period of time," said Kendrick. "She loves to swim and will jump in after anyone that goes in the water.
Kendrick said one thing that people sometimes don't consider is how the dog is going to get back on the boat after getting in the water.
"Many swim decks are high out of the water and the dog cannot get out on their own, so attention needs to be paid as to how long the dog is in the water and how tired they are getting."
Bron Beal, executive director of The United Boat Dealers of North Texas, presenter of the 2016 DFW Summer Boat Expo, says, "The boating lifestyle is great for the whole family, especially some of the four-legged ones. There are many things to consider before and during a boat trip that can ensure a safe and enjoyable experience for all."
Tips for boat safety with dogs:
Be prepared and develop a plan in case a dog unexpectedly goes overboard. Each person on the boat should know the plan and their role in it;
Invest in a life jacket. It's important for a dog to have a life jacket before taking it out on the water. A dog may be a strong swimmer, but– depending on the conditions, including weather and currents—it could face problems. Also, give a dog the chance to practice swimming in the life jacket before going out in the water;
Make sure to have a stocked first aid kit on the boat. The U.S. Humane Society recommends a number of pet-specific supplies and useful items to include;
Visit the boat and let a dog get acquainted with it before taking it on the water;
Keep a dog's first outing short so it can adjust to the ship's movement;
Keep a dog hydrated. If it's going to be out boating in the sun all day, be aware that a dog may be in danger of overheating;
Don't skip sun and paw protection. Be aware that boat surfaces tend to become very hot in the sun. Know which areas will heat up and protect a dog's feet and provide a shaded area on the boat; and,
Pay attention. Always knowing a dog's location and condition will help make sure if it's in any danger.