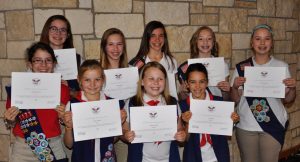 Nine American Heritage Girls from Troop 1171 at Crossroads Bible Church in Double Oak have earned Presidential Volunteer Service Awards.
Scout Family 1171 is in its 11th year as a non-profit group formed to promote fellowship among Christian homeschool families through quality youth programs.
The programs offered include: American Heritage Girls, girls aged 5-17; Cub Scouts, boys aged 6-10; Boy Scouts, boys aged 11-17; and, Venturing Crew, co-ed ages 14-20.
Activities include: fall and spring family campouts; Christmas party; picnics; field trips; kid-focused fun; and, community service projects.
All groups meet Monday nights 7 to 8:30 p.m. at Crossroads Bible Church in Double Oak.