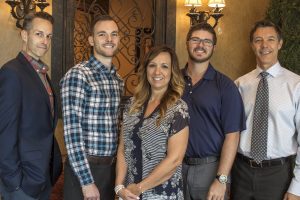 One visit to a meeting of her father's Marine Corps League was all it took for Kathy King to want to find a way to give back to people through her business, Highland Village-based King Financial Group, Inc.
The result was the Loans for Leaders program started at the beginning of 2015. King partners with a number of other service providers to offer saving opportunities on closing costs for home loans for police, firefighters, teachers, health care workers, veterans, and perhaps most unique – owners of businesses with 25 or fewer employees.
"It was my way of thanking them for their service," said King, who started in the mortgage loan business 30 years ago. She founded King Financial Group in 1992 in Addison, moved to shared quarters with the Flower Mound branch of Keller Williams 10 years ago and to the current location 18 months ago. Among her staff is husband Alex, who serves as her executive vice-president.
"We have so many small business owners who work so hard that I wanted to give back to them," she said. "They built our community. Our country was built on small businesses and government is trying to take that away to the best of their ability. We don't want to do that."
While King knew of similar programs, she didn't like that many charged participating service providers a fee and/or part of their commissions to be involved. She wanted it to be completely voluntary and controlled by the borrowers.
"It has to be something where people feel they are giving back," she said. "I didn't want to buy people into the program. I want the borrower to be in control."
King's goal was for participating businesses to offer small savings which if bundled together could save borrowers some significant change on the closing costs of their loans. And so far the idea has worked well with nearly 200 people already taking advantage. In fact, King said about 50 percent of her firm's new loan originations since then have come through the initiative, many from people who didn't know about it.
Loans for Leaders currently includes about 30 realtors, four or five insurance companies plus one document preparation provider. King hopes to involve inspectors, warranty and survey companies in the future which could save borrowers even more money which for one customer was about $900 overall.
"It's free money," said King, who encourages clients to shop at least three places to ensure they have found the most savings. "I figure if it's $500, it's $500."
Once it's determined the borrower fits one of the program categories, they fill out a participation form and the service providers they choose do the same. When the loan closes, everyone knows which providers they selected with the savings choices listed right on the final closing paperwork.
"It's been great to hear stories of families using the program," she said. "We're glad to be able to give money back to any of these people. They're all heroes in my eyes. They take care of our communities, our families and our kids. A lot don't know how much they give and at what little pay."
None of it would have happened had King not attended that one meeting with her father. She was so impressed with the Marine Corps League's efforts, she plans to donate some proceeds from every file her group handles back to the organization.