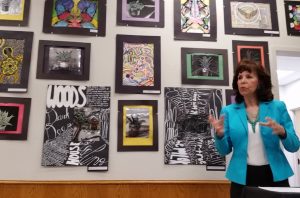 If you haven't visited Point Bank at 4920 Long Prairie Road in Flower Mound, then you haven't seen some of the fine artistic ability of our local school students.
A quick stroll through the lobby of one of the longest serving community banks in the county provides a full wall display of artwork created by Flower Mound's middle school students.
My wife, Annette Weir, a member of the Flower Mound Cultural Arts Commission, came up with an idea to allow youngsters to exhibit their creative renderings by posting them in area businesses. Most offices have some extra wall space, so why not decorate it with talent from local children and young adults? It serves a few purposes.
For one, it gives recognition to kids who might not otherwise receive the appreciation they deserve, if their creativity is only observed by a few people in their classrooms.
For another, it gives their parents a sense of pride to see their child's talent on display.
Talent comes in many forms and youngsters need direction to help them discover the area that suits them the most. For some, it's sports; for others, it's literary pursuits; and, for still others, it's putting colors on a canvas.
The only painting I've ever done is that which covers a wall with a roller, dripping with enamel.
When I first heard about the idea to hang pictures drawn by adolescents, I was skeptical about the outcome. Would we be treated to a bunch of stick figures with bulging eyes and crescent-shaped lips? Well, I couldn't have been more wrong!
When I flashed my peepers on the first group of offerings, you could have knocked me over with a feather. Trust me; these kids have real artistic aptitude! As you can see in the photo (artwork in the background).
Annette spoke to a group at a breakfast sponsored by The Cross Timbers Gazette and hosted by Point Bank Branch Manager Steven Warrell. For about 20 minutes she talked about the need to advance the cultural arts in our community.
"At any given time you can see activity in the local parks, or high schools with football, baseball, tennis, soccer, basketball, etc.," said Weir. "However, the arts were pretty much put to the side and only came up when there was an event such as the annual 'Independence Fest,' which draws thousands to Bakersfield Park."
Annette went on to say that she spent several years on the Parks, Arts and Library Services (PALS) Board, before asking members of the Flower Mound Town Council if a spin-off could be created that would accentuate cultural arts.
"Thanks to Mayor Tom Hayden and Councilmen Bryan Webb, Steve Dixon and Mark Wise, the Cultural Arts Commission was born," she said.
Although in the embryonic stages, the Commission is moving rapidly to ferret out the creative residents among us.
"I tossed the idea of a public art display to one of Point Bank's former staff members, Vanessa Minoff," said Weir. "She thought the idea was good, but had to pass it by her superiors. Within about a week, I had the opportunity to meet with Executive Vice-President Cathy Ueckert, Assistant Vice-President Steven Warrell and Vice-President and Regional Branch Manager Joe Adair."
Thanks to the help of all the aforementioned, the Commission has found one of the ways in which to recognize and inspire the many budding Van Goghs, Rembrandts and Picassos, who envision the world through the colorful lens of their brushes, easels and pigments of water and oil.
Annette is also promoting the performing arts by seeking thespians and the musically-inclined in our orbit. For those interested in the arts, or those who have ideas to contribute, she can be contacted at [email protected].
Bob Weir is a long-time Flower Mound resident and former local newspaper editor.