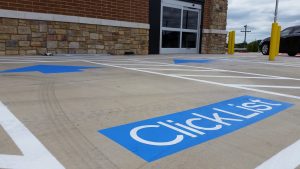 Kroger is rolling out ClickList, an online grocery ordering service, at their Bartonville store in Lantana Town Center.
ClickList allows customers to shop online and pick up their order curbside at a participating store location. Bartonville is  expected to begin operating the new service by August.
Here's how it works: A customer goes to www.kroger.com/ClickList and creates a free, online account. Next, the customer selects a participating store and selects from 40,000 offered products. The customer builds their digital cart by clicking and adding products. Once the customer has completed their online shopping, they select an available pick-up time. A dedicated ClickList employee is then assigned the order and handpicks the customer's items based on personal preferences provided. Finally, the customer drives up to the designated pick-up area to pay and have the groceries loaded to their car.
As an introductory offer, Kroger will waive the $4.95 service charge for a customer's first three orders.
Nationally, Kroger has been testing online shopping and collecting customers' feedback about the service since November 2014.
"Feedback from our customers, and other regions, who tested ClickList was overwhelmingly positive and very useful in helping us make changes and improvements before we introduced the service locally," said Dana Zurcher, president of the Kroger Dallas division.
"We know today's customers are continuously looking for ways to increase their productivity yet simplify their lives. We are certain this online shopping service will offer young families, seniors, disabled customers and other shoppers an easier and more convenient way to grocery shop."
Over the next few months, Kroger plans to introduce ClickList to additional stores in Denton, Frisco, Lewisville, and Little Elm.