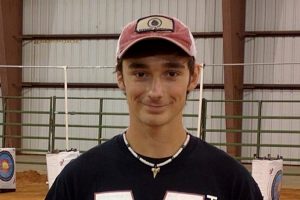 Marcus High School senior Sam White, 17, is the top archer in Texas and a nationally-ranked member of Team USA Archery.
The Town Council presented a Certificate of Achievement to White for National Archery in the Schools Program All-Star Team in its June 20 council meeting.
He just finished competing in the 2016 National Archery in the Schools Program (NASP) tournament in Louisville, Ky., and scored a 295 out of a possible 300 points. He qualified to represent the United States in the 2016 All Nation All-Stars Tournament held in the Northern Drakensberg area of Cape Town in South Africa.
White is one of six children in a family who moved to Flower Mound from New Orleans following hurricane Katrina. Following his relocation and enrollment in Lamar Middle School, he tried joining the school archery team.
"I have taught a lot of people how to shoot a bow and arrow, and Sam was the worst," said coach Ferris Bavousett, who started his career as an archery instructor at Arizona State University in 1972. He coaches archery at both Lamar Middle School and Marcus High School.
His Lamar teams have won the NASP state archery middle school title four years in a row, collected the national championship in 2013, finished second in the nationals this year and second in the NASP world tournament in 2013.
"I thought [when Sam was dropped from the team] he would walk out the door and never come back," said Bavousett. "The next thing I knew, he's back at the range. There was no way he could be on my team and represent Lamar. I felt bad, but I had to do what I had to do."
White is proof that perseverance and practice will pay off. He is ranked first in Texas, first in the U.S. and second in the world.
"Because the tournament is being held so far away, I need help raising money to attend this once-in-a-lifetime event," said White. "My goal is to raise $7,000 by July 1st, 2016. This will ensure my spot on the team. I really want to be able to represent my school, my district, my town, my state, as well as my country. I have been told that there will not be another opportunity like this next year. This is my last chance to represent my country like this during my high school career."
To that goal, he has set up a Go Fund Me account:  https://www.gofundme.com/24n49ek.
On White's Twitter page, he has a quote from NFL 2011 Hall of Fame wide-receiver Jerry Rice: "I will do what others won't, so tomorrow I can accomplish what others can't."
He's put in the time and practice to reach his goal; all he needs is a little help from his friends.
Read more about White here.