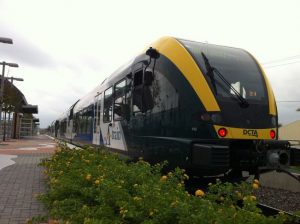 The Denton County Transportation Authority (DCTA) is celebrating five years of A-train service this year by providing free A-train day passes as a gift to those who want to help celebrate the agency's 21-commuter rail line's fifth birthday.
The promotional free day pass will only be valid on the A-train on Saturday, June 18.
Passengers can ride the A-train free all day by downloading and presenting their free A-train day pass to rail operators. To download the A-train free day promotional pass, visit http://woobox.com/8haw4z.
Formed in 2002 and funded in 2003, the Denton County Transportation Authority has been focused on an aggressive service implementation strategy to address the mobility needs of Denton County residents.
The central element of their Service Plan is the A-train, which connects with DART's Green Line at Trinity Mills in Carrollton and provides service to five stations within Denton County.
In addition to the A-train, the DCTA provides bus service in the cities of Lewisville, Denton and Highland Village.
Since inception, DCTA has carried 2,581,022 passengers on the A-train to date. Other major A-train milestones over the past five years include:
1st year of operation: In June 2012, DCTA received a waiver from the Federal Railroad Administration (FRA) to operate its Swiss-made, Stadler GTW rail vehicles on the same tracks as freight trains. For the first time, lightweight low-floor vehicles were permitted to operate in rail corridors concurrently with traditional vehicles, helping to expand commuter rail options for transportation agencies across the country.
2nd year of operation: In August 2012, DCTA expanded A-train midday service Monday through Friday, as well as Friday and Saturday night service.
3rd year of operation: In September 2013, DCTA celebrated exceeding one million A-train passengers since the agency launched commuter rail service on June 18, 2011.
4th year of operation: In June 2015, DCTA celebrated community enhancements (installed park benches and decorative historical markers featuring DCTA and Southeast Denton Neighborhood Association history, planted new trees and plants, added safety and privacy fencing, etc.) that were completed for the Denton portion of the A-train Rail Trail.
5th year of operation: In May 2016, DCTA began operating both single-car trains and multi-car trains for A-train service which will enable the agency to save nearly $680,000 a year in fuel, maintenance of equipment and car miles.
Other DCTA services such as Connect Bus, Highland Village Connect Shuttle, UNT and NCTC Campus Shuttles, Access, vanpool and on-demand services are not included in this A-train birthday free day pass promotion. This pass is not valid on the Dallas Area Rapid Transit (DART). Passengers who plan to transfer to the Dallas Area Rapid Transit (DART) will need to have or purchase DART fare for that portion of their trip.
For more information about DCTA's A-train fifth birthday campaign, visit www.RideDCTA.net.