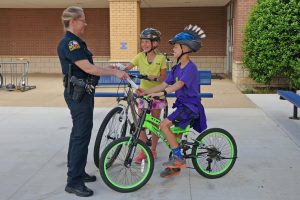 June 1 marked the beginning of the Flower Mound Police Department's (FMPD) Safe Neighborhoods Summer Initiative.
The program is led by beat officers and focuses on both pedestrian and bicycle safety in town neighborhoods. It incorporates traffic safety measures, especially near parks and trails, where children are often present.
During this time, officers will focus on speed limit enforcement and driver inattention violations to help ensure children have a safer summer.
In addition, the police bike program provides a great chance for members of the FMPD to create positive community interactions and address criminal activity in areas inaccessible to a police vehicle. This year, the program expanded from 6- to 10-bicycle officers.
The Police Department's third annual "Get the Scoop" program also started on June 1 and features officers giving treat vouchers to children they see wearing helmets when riding a bicycle, skateboarding, rollerblading, or similar type activities.
The local businesses participating in the "Get the Scoop" program are:
* Sonic (6210 Morris Rd.) – Free medium cherry limeade;
* Sonic (2925 Cross Timbers Rd.) – Free medium cherry limeade;
* Sonic (2541 Flower Mound Rd.) – Free vanilla ice cream cone;
* Epic Gelato (2400 Lakeside Parkway #100)- Free small gelato;
* Culver's (2709 Flower Mound Rd.) – Free scoop/dish ice cream;
* Baskin-Robbins(2704 Cross Timbers Rd.) – Free soft-serve cone;
* Marble Slab (2321 Cross Timbers Rd.) – Free child's ice cream;
* Dairy Queen (1909 Justin Rd.) – Free mini Blizzard; and,
* 7-Eleven (all participating locations)