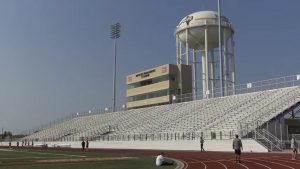 UPDATED 9 P.M.: Two Marcus High School students were rushed to area hospitals Thursday afternoon after colliding into each other during football practice.
One was transported via CareFlite to Baylor Grapevine and the other was taken by ambulance to Medical Center of Lewisville.
At 9 p.m. Tuesday, Lewisville ISD spokeswoman Amanda Brim said that one of the students was released from the hospital and the other one is expected to be released shortly.
"We expect both students to make a full recovery. CareFlite was called out of an abundance of caution," said Brim.
Both athletes are doing great and resting well. Thank you to all staff and 1st responders for putting kids safety 1st. #bered #family

— Gerry Stanford (@StanfordGerry) May 20, 2016