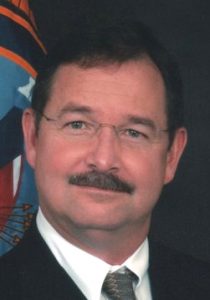 Every day.
Every day there is an unending report of motor vehicle collisions, reckless drivers and intoxicated motorists broadcast over Denton County dispatch.
Today, as this is written, we had a road-rage incident end in our police parking lot with only, thankfully, a bad case of hurt feelings.
Earlier this week, we had a report, from another law enforcement agency, of a driver heading westbound on FM 407 at 100 m.p.h. (hey kid what's a cop supposed to tell your mother when you inevitably find that tree?). Earlier this month, on what should be a low-speed road in Double Oak, we had a one-car rollover, which required fire department extrication of the driver.
We know that the construction zones on I-35 and Hwy 380 and FM 407 and Hwy 156 are dangerous and have seen an increase in accidents.
We know that distracted-driving is hazardous, yet every motorist has witnessed the reckless driving style of the rolling text maniacs and phone users.
I'm going to share some statistics and suggestions– education does work– and ask you to think about how you drive.  I absolutely understand that you can't control the actions of the other motorist, but you can control your actions and reduce your personal risk.
During 2014, if you were between the ages of 15 to 24, the overwhelmingly most dangerous thing you did in the United States was operate a car; 55-percent, or 6,531fatalities for people in that age bracket, were motor vehicle traffic collisions
The next biggest hazard was poisoning; 29.5-percent, or 3,492 fatalities, attributable to prescription and illegal narcotic overdose.  (Data Source: National Center for Health Statistics (NCHS), National Vital Statistics System http://webappa.cdc.gov). 
Other quick facts from 2014 reveal some interesting data, 29,989 people lost their lives in motor vehicle collisions in the United States.
We had a reported 6,064,000 accidents with 2,338,000 people having reportable injuries (generally defined as injuries that require medical treatment).
Alcohol-impaired driving was known to be involved in 9,068 of fatal crashes.  The highest percentage of intoxicated drivers involved in fatality accidents comes from the 21 to 24-year-old age group at 30-percent, followed closely by the 25 to 34-year-old age group at 29-percent.
Surprisingly, intoxicated pedestrians accounted for 39-percent of pedestrian fatalities.
Excessive speed contributed to 28-percent of vehicle fatalities; 4,586 motorcyclists were killed on our roads, of which 39-percent, or 1,716 were not wearing helmets (National Highway Traffic Safety Administration – DOT HS 812234 March 2016 – Revised).
As a parent, I felt the heavy obligation to role model driving behavior properly for my teen driver. You, mom and dad, have an incredible influence on your children and how they conduct day-to-day activities like driving.
I also recognized that my loving daughter often didn't listen to dad and found her a reputable driving school.  It's amazing the amount of positive pressure exerted by a driving instructor who completes an observation report and critiques driving at the end of a practice session.  I did drive with my young motorist, but it was awesome to hear her repeat information from her driving instructor about proper vehicle spacing, using a turn signal indicator, how to accelerate on to a highway, the importance of seatbelts, driver inattention, etc.
How can you reduce the odds of becoming seriously injured or killed?  How can we keep our children from killing or maiming themselves or others?
My first thought was to simply incarcerate everyone between the ages of 16 and 30.  I suspect the crime rate would plummet and our roads would be quantifiably safer.
Unfortunately, further internet research indicated that the federal government had taken over all the abandoned discount stores in Texas for Operation Jade Helm and there was no extra cell space available.  So maybe the following is more reasonable:
Don't drink and drive. Nationally, campaigns against intoxicated driving and prosecutions have had a positive effect.  Society, Legislatures, District Attorney's Offices and Police Departments are far less tolerant about drunk driving than ever before.  It is a guarantee, that if you are stopped in Double Oak for suspected intoxicated driving, we will obtain a blood search warrant for subsequent analysis by the Texas Department of Public Safety crime laboratory.
Wear your seatbelt. There is a statistical correlation between using a seatbelt and avoiding a fatal accident.  Estimated current seat belt use is at 87-percent with an estimated additional 207 lives saved for each percentage increase in seatbelt utilization (NHSTA DOT HS 812 234 – March 2016 Revised).
Don't text and drive. Don't dial and drive.  This seems self-evident, take your eyes off the road to type or read a message and four seconds later, at 60 miles per hour, you've traveled 352-feet, or over a football field in distance. If another motorist is closing on you, from the other direction, at 60 m.p.h., your combined closure rate is 704-feet, or over one-tenth-of-a-mile every four seconds.  You almost certainly will not survive a head-on collision at 60 miles per hour.  Software applications like "Cellcontrol, Drive Safe Mode" and "Live 2 Txt" are available to deactivate your child's phone (or if you own a company, worker's phones), while it is moving at vehicle velocity.  I highly recommend the purchase and use of such apps.  I have worked multiple fatality accidents and worked or reviewed hundreds of vehicle collisions with injuries. I've yet to hear a texting driver admit to texting or intoxicated driver say they were sorry for the mayhem caused.
Keep enough space between you and the car in front of you. Over the years, the two-second rule has morphed into the three-second rule.  You need time to assess what's going on in front of you and to formulate a plan for evasive action.
Leave home with plenty of time to get to where you're going. If you know traffic is bad on I-35E because of construction, leave earlier.  That's way less crazy than weaving in-and-out of traffic, speeding, driving in the service lane, passing on the right and in general inviting law enforcement attention.
Drive the speed limit and/or speed appropriate for conditions. Holy mackerel, I know I'm dreaming on this one.  Traffic control devices such as stop lights and stop signs, posted speed limit signs and the Texas Transportation Code aren't suggestions, but rather the expression of our State's regulatory will.  Interestingly I have found, over the past 27-years of observing, reading about and occasionally conducting speed studies, the majority of people drive at– or slightly below– the posted speed limit.  The reality is, a small– yet aggressive– percentage of motorist's willfully decide to endanger other people for their convenience or entertainment.  We'll see them at their next traffic stop.  Unfortunately kids do drive like their parents, over time you see entire families receiving similar citations.  Please, please think about your kid's future as a driver, if you don't give a rodent's posterior about your own.
Those days you think are dangerous to drive, they are. TxDOT maintains the cheerily named "Fatal Crashes and Fatality Calendar" http://ftp.dot.state.tx.us/pub/txdot/trf/crash-statistics/2014/04.pdf on their website. If you drive on January 1, you are over four-times more likely to become involved in a fatality accident than you are on the following day of January 2.  This holds true with weekends and other holidays.  Avoid driving early in the morning the day after big holidays.
Don't drive through standing water. Concurrent to this request, is don't ignore police or governmental barricades shutting down a road.  DOPD has been involved in a water rescue where the motorist knowingly drove around the barricade and attempted to cross a flooded stream; stranding the motorist on top of the vehicle.  Drivers who chose to endanger themselves (other people care about them); destroy a car, thus incrementally raising everyone's insurance rates; risked firefighter lives who had to coordinate a water rescue; tied-up multiple law enforcement officers; and, committed a misdemeanor offense punishable by jail and a fine.  Please don't be that person.
Thank you for the opportunity to serve.