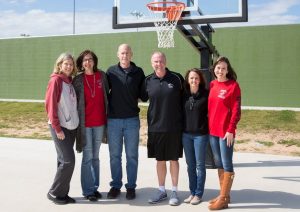 Once a year, since 2012, family, friends and fellow residents of Argyle have used the sport of basketball to honor the memory of a young athlete who died too young—Alex Betzhold.
He died unexpectedly in January 2012 of sudden cardiac arrest caused by a previously undiagnosed heart condition. He was just 13-years-old and in seventh grade.
"One thing I really remember, many times after dinner he would say 'let's have a family game of basketball,'" said Alex's mother, Mary. "My husband [Steve] and Alex would be on one team and the girls [Sophie and Claire, a University of Oklahoma freshman] and I on the other. We'd have this big game and of course there'd be yelling and fighting – the typical family. But it was so much fun."
Betzhold's love of basketball is what prompted family friend Steve Sheridan to come up with the 24-hour free-throw marathon annual event called "Shoot for the Stars," just months after Alex's death.
The success of the "Shoot for the Stars" event prompted former Argyle High School principal Jeff Butts to seek an even larger community event the following year. He worked with the Betzhold family and staff member Pam Arrington to help promote awareness of underlying heart conditions.
"I just like the fact the whole community's involved," said James Hill, who took over as AHS principal this school year after Butts' departure. "It's for a great cause and in memory of a great young man with a wonderful family. It's touched the lives of a whole lot of people the same way he touched the lives of a lot of people.
"I think one of the best things to come out of this is awareness, since I'm sure there are many, many families affected by this and they can prevent it with early detection. I'm going to have my own children checked."
"It was their passion to put on something related to basketball to honor Alex," Mary said.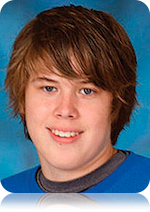 Now, all have helped create something that can remind everyone of Betzhold's life every day, thanks to the opening of the outdoor community basketball court that bears his name at Argyle High School.
"What I think about when I remember Alex playing on the court; the joy he took from the game," said Mary. "To be able to give back to the community in this way is absolutely the perfect way to honor Alex. I can't think of anything that would probably delight him as much as providing a court in his memory. I think he would just love that."
The result has been a multi-event extravaganza that has met its goal of including the community in the celebration of Alex Betzhold's life.
"It's very meaningful," Mary said. "I really didn't realize, until I was standing out there, exactly how much meaning it gives and every day I just drive right by that court when I'm leaving school and coming in. I just get so excited. I've seen a lot of mornings the high school groups playing before school and groups of eighth graders whose thing now is to come up on Sunday afternoon to play. All of that just gets me so excited, because Alex so loved the game of basketball."
The court, which features three basketball goals, is located next to the tennis courts behind the high school.
Argyle-based Hamilton Homes played a role in making the court a reality.
"After working with the Betzhold family for four years on something to help memorialize their son, Kathy and I were on the porch at Fuzzy's when they were trying to raise the last amount of money needed to get the basketball court going," said Hamilton Homes owner Dave Salisbury. "Once we heard the amount they needed to finish, we decided that we would make up the difference and also decided that we would do the work at no charge.
"We know that it was part of God's plan to put us all together. We are really blessed to have been a part of this and hope the entire community will enjoy it for many years to come."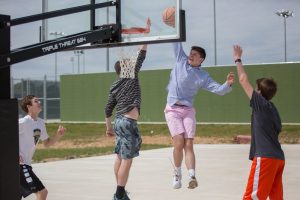 "I think it's really cool that we can have something in honor of him besides just the event," said Alex's sister, Sophie, now a 15-year-old sophomore. "I like [that] it's going to be here forever."
While the formal dedication will not take place until May 14, as part of the Alex Betzhold Memorial Fund's fifth-annual "Shoot for the Stars" celebration, youth and adults alike have been competing on the venue since early March.
Among those who will take part in the special day will be the "Living for Zachary" organization that tests students for heart disease. It is named after Zachary Schrah, a 16-year-old Plano Clark High School student who collapsed at a football practice and died in 2009 from the same disease.
"This 'Living for Zachary' organization has been phenomenal in spreading awareness," said Mary. "I was amazed at what they do. His [Zachary] mother started this and they're really huge and pretty well-known for what they do. They provide schools with AED's (Automated External Defibrillators) and provide a lot of education."
Would Alex be embarrassed to have a basketball court named after him? Quite the contrary, said one of his best friends, 17-year-old Zach Grant.
"No, he'd love it," Grant said.
Another friend, 18-year-old Brayden Ratcliff, whole-heartedly agreed. Both plan to be in attendance for the formal ribbon cutting at about 9 a.m. on May 14 plus the informal ceremonies right after school the afternoon before for the student body.
The Saturday events will include a community balloon release in memory and honor of loved ones, a basketball tournament, plus many other activities still in the planning stages.
"We want to express our gratitude for the overwhelming love and support we have received from the community," said Alex's mother Mary, who teaches geometry and math-models at the high school. "This is one small way we are able to 'give back' for the multitude of ways they have helped us see good in our tragedy. They have comforted us, inspired us and have taught us what it truly means to serve those in need."
More information on Alex Betzhold and Shoot for the Stars is available at shoot4stars.org. Vendors or others wanting to become involved also can contact Arrington at [email protected] or 940-390-9090.